1964, The Beatles made their live concert debut in the US at the Washington Coliseum. Over 350 police surrounded the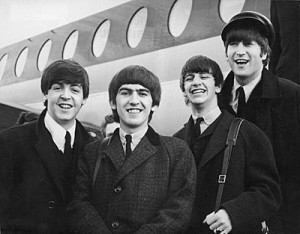 stage to keep the 8,000 plus screaming fans in control. One police officer who found the noise so loud, stuck a bullet in each ear as ear plugs. The Beatles had to stop three times and turn Ringo's drum kit around and re-position their microphones so that they faced a different part of the audience. The set list: 'Roll Over Beethoven', 'From Me to You', 'I Saw Her Standing There', 'This Boy', 'All My Loving', 'I Wanna Be Your Man', 'Please Please Me', 'Till There Was You', 'She Loves You', 'I Want to Hold Your Hand', 'Twist and Shout', and 'Long Tall Sally'.
1965, Beatles drummer Ringo Starr married his long-time girlfriend Maureen at Caxton Hall Register Office in London. John and George attended, Paul was away on holiday.
1968, Pink Floyd record a session for John Peel's BBC Radio Top Gear show.
1969, The Monkees set a new record when their second album, "More Of The Monkees" jumped from No.122 to the top of the US chart. The album then stayed in pole position for eighteen weeks.
1970, Fleetwood Mac, The Allman Brothers and Grateful Dead all appeared at the Fillmore East in New York City.
1970, John Lennon and Yoko Ono play "Instant Karma" on the BBC TV show Top of the Pops.
1973, a local charity raised over £500 ($850) selling bedsheets and pillowcases used by the Rolling Stones after a show at Western Springs Stadium in Auckland, New Zealand.
More rock history is available at Yeah Baby Tunes