1971, US police arrested all the members from The Allman Brothers Band for heroin and marijuana possession.
1973, Traffic supported by Spooky Tooth appeared at The Hard Rock, Manchester, England.
1975, Frankie Valli went to No.1 on the singles chart with 'My Eyes Adored You', his first solo No.1.
1975, Led Zeppelin started a six week run at No.1 on the album chart with 'Physical Graffiti', the group's fourth No.1 album.
1975, The tartan teen sensations Bay City Rollers were at No.1 on the UK singles chart with 'Bye Bye Baby', the group's first of two UK No.1′s.
1978, The Police signed to A&M Records. The band scored over 15 Top 40 hits with the label including the worldwide No.1 'Every Breath You Take.'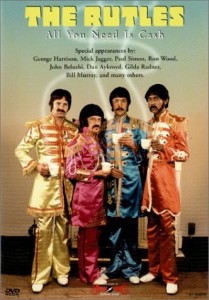 1978, Bob Dylan releases At Budokan in Japan.
1978, The Rutles' 'All You Need Is Cash', an affectionate spoof of the Beatles' career, was broadcast for the first time in the US.
1980, Pink Floyd's 'Another Brick In The Wall', started a four week run at No.1 on the singles chart.
1981, Tonight at Chicago's Checker Board Lounge, blues giant Muddy Waters is joined by fans Mick Jagger, Keith Richards, and Ronnie Wood for a jam onstage.
Get more history at Yeah Baby Tunes