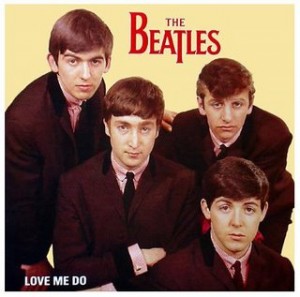 1964, The Beatles went to No.1 on the singles chart with 'Love Me Do', the group's fourth No.1 in five months. The version released in America had Andy White playing drums while Ringo played the tambourine. The British single was a take on which Ringo played the drums.
1965, The Rolling Stones played the final night of a US tour at the New York Academy of Music. During the afternoon the band recorded six songs for the Clay Pole TV show.
1966, The Who appeared at Sincil Bank Football Ground, Lincoln, England.
1966, The Doors appeared at the Hullabaloo, West Hollywood, California.
1966, The Jefferson Airplane perform at a benefit for the Haight-Ashbury Legal Organization in San Francisco.
1968, The Beatles began recording what became known as the White Album. The double-LP whose official title was simply 'The Beatles' became the first Beatles album released with the Apple label. The first track they recorded was 'Revolution'.
1969, Pink Floyd appeared at the Fairfield Halls, Croydon, England.
1969, Led Zeppelin played the first of two nights at The Fillmore East in New York City.
1970, Ray Stevens went to No.1 on the singles chart with 'Everything Is Beautiful'. The former DJ had a string of novelty hits, including 'Jeremiah Peabody's Poly Unsaturated Quick Dissolving Fast Acting Pleasant Tasting Green & Purple Pill'.
1972,  Roxy Music play their first major date at Lincolnshire, England's Great Western Express Festival.
1974, Bernadette Whelan a 14 year-old David Cassidy fan died of heart failure four days after attending a concert of his. Over 1,000 other fans had to be given first aid during the White City Stadium show.
1977, It's the last chance to see Elvis play Florida as he appears tonight at Jacksonville's Veterans Memorial Coliseum.
1978, Led Zeppelin begin recording In Through the Out Door.
Get more history at Yeah Baby Tunes