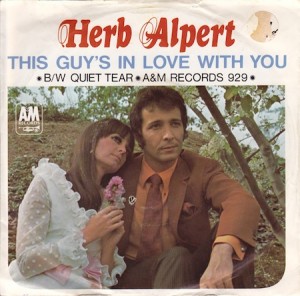 1968, Herb Alpert started a four week run at No.1 on the singles chart with 'This Guys In Love With You'. His first No.1 plus first No.1 for the A&M label and the writer's Bacharach and David's first chart topper.
1968, Over in England, the Rolling Stones go to No. 1 with their back-to-basics single "Jumpin' Jack Flash." It was the first time they had visited the top spot in two years. In today's Rolling Stone, the magazine reviews the bootleg Basement Tapes in an article titled "The Missing Bob Dylan Album."
1968, A great day for long songs in rock as actor Richard Harris goes to No. 2 with his seven-minute reading of "MacArthur Park."
1968, The Jeff Beck group featuring Rod Stewart made their US debut at the Fillmore East, New York.
1968, The Otis Redding album 'Dock Of The Bay' went to No.1, (Redding was killed in a plane crash on Dec 10th 1967).
1969, Supergroup Blind Faith release their self-titled album.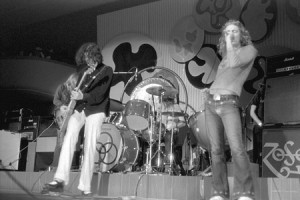 1970, Led Zeppelin appeared at Laugardalsholl Hall, Reykjavik, Iceland on the group's one and only visit to Iceland. It is suggested that Robert Plant was inspired to write the lyrics to 'Immigrant Song' during this trip."
1974, Gordon Lightfoot started a two-week run at No.1 on the album chart with 'Sundown'.
1975, At New York's Madison Square Garden, Eric Clapton joins the Rolling Stones onstage to jam on "Sympathy for the Devil."
1978, The Boomtown Rats, supported by Matt Vinyl & The Decorators appeared at the Odeon Theatre, Edinburgh, Scotland.
Born on this Day – Kris Kristofferson (1936) – Howard Kaylan(1947) – Todd Rundgren (1948)
Get more history at Yeah Baby Tunes