1966, The Beach Boys, The Byrds, Love, Captain Beefheart, The Lovin Spoonful and Percy Sledge all appeared at The Hollywood Bowl, Hollywood, California.
1966, Jackie Wilson was arrested for inciting a riot and refusing to obey a police order at a nightclub in Port Arthur, Texas. Wilson had a crowd of 400 whipped into a frenzy and refused to stop singing when requested to do so by police. He was later convicted of drunkenness and fined $30.
1966, Neil Diamond makes his first appearance on American Bandstand, serenading Dick Clark with "Solitary Man."
1967, During a north American tour The Jimi Hendrix Experience gave a free afternoon concert in Golden Gate Park, San Francisco. They then played another two shows that evening at the Fillmore West.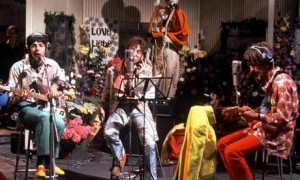 1967, 200 million people saw The Beatles perform 'All You Need Is Love', live via satellite as part of the TV global link- up, 'Our World', Mick Jagger, Keith Richards, Eric Clapton, Graham Nash, Keith Moon and Gary Leeds provided backing vocals.
1969, The Hollies recorded 'He Ain't Heavy, He's My Brother'. Elton John played piano on the session.
1969,  Sly & the Family Stone record "Hot Fun in the Summertime."
1970, Hall & Oates record together for the first time as Whole Oats.
1977, Marvin Gaye went to No.1 on the US singles chart with 'Got To Give It Up', his third US No.1.
Born on this day – Carly Simon (1945)
Get more history at Yeah Baby Tunes