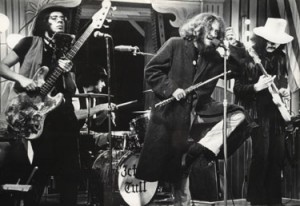 1968, A free concert was held in London's Hyde Park with Pink Floyd, Jethro Tull, Tyrannosaurus Rex and Roy Harper. This afternoon concert was the first free festival to be held in Hyde Park. The concert was held to coincide with the release of Pink Floyd's second album, A Saucerful of Secrets.
1968, The Small Faces started a six week run at No.1 on the UK album chart with 'Ogden's Nut Gone Flake.' A concept album with a round cover designed to look like a tobacco tin.
1969, The Jimi Hendrix Experience play their last concert together at the Denver Pop Festival in Mile High Stadium.
1969, Led Zeppelin, The Liverpool Scene and Mick Abraham's Blodwyn Pig all played two shows (5.30 and 8.30pm) on this Sunday night at The Royal Albert Hall, London, England. Tickets from 5 to 15 shillings.
1973, Ian Gilliam singer with Deep Purple quit the band at the end of a tour in Japan.
1974, Singer songwriter Gordon Lightfoot scored his only No.1 single with 'Sundown'.
1974, There's a change in the lineup of future Canadian prog superstars Rush as Neal Peart replaces John Rustey on the drum stool today.
1975, In Oakland, Calif., Elton John joins the Doobie Brothers on stage to duet on "Listen to the Music." Then when the Eagles try to play their set, John crashes their party to duet on another song.
1975, American singer songwriter Tim Buckley died of an overdose of heroin and morphine aged 28. Released nine albums including the 1972 release 'Greetings from L.A.' Buckley is the father of singer songwriter Jeff Buckley.
1976, The city of Memphis names Elvis Presley Blvd. after … guess who?
1977, During a North American tour Fleetwood Mac appeared at Madison Square Garden, New York City.
1978, Peter Frampton broke his arm and cracked several ribs when he was involved in a car crash in the Bahamas.
1978, David Bowie played the first of three nights on his Low / Heroes world tour at Earl's Court in London, England.
1979, American singer-songwriter, multi-instrumentalist and producer, Lowell George died of a heart attack. The Little Feat front man was found dead at the Key Bridge Marriott Hotel in Arlington, Virginia.
Born on this day: Ian Paice -Deep Purple (1948)
Get more history at Yeah Baby Tunes