1966, The Mothers of Invention support comedian Lenny Bruce at San Francisco's Fillmore Auditorium.
1966, At the Cow Palace, the Beach Boys' Summer Spectacular features performances by the Jefferson Airplane, the Lovin' Spoonful, Percy Sledge, the Byrds, and the Sir Douglas Quintet.
1967, The Monkees went to No.1 on the album charts with 'Headquarters' the group's third chart topper.
1967, Pink Floyd make their debut performance on the BBC's Top of the Pops, performing their new single "See Emily Play." Syd Barrett wears a suit of velvet and satin.
1969, The Doors appeared at The Roach, New Orleans, Louisiana.
1972, David Bowie appeared at the Guildford City Hall, England, on his Ziggy Stardust world tour.
1972, In Fort Worth, Texas, the Rolling Stones film the concert that will be released as Ladies and Gentlemen, the Rolling Stones.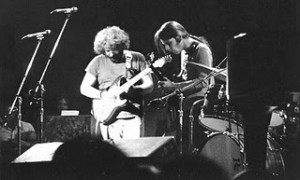 1973, The Grateful Dead appeared at the Portland Memorial Coliseum, Portland, Oregon.
1973, Longtime Blues Project fans are overcome in New York's Central Park when Al Kooper rejoins his old band onstage.
1978, Genesis, Jefferson Starship, Jeff Beck, Tom Petty And The Heartbreakers, Devo, Brand X and The Atlanta Rhythm Section all appeared at Knebworth Park, England, tickets cost $10
Born on this day: Mick Fleetwood (1942) and Jeff Beck (1944)
Get more history at Yeah Baby Tunes