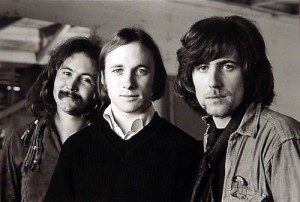 1968, At an impromptu gathering at Joni Mitchell's house in Lookout Mountain, Laurel Canyon, Los Angeles, David Crosby, Stephen Stills and Graham Nash played together for the very first time.
1969, John Lennon holds a press conference to announce the release of "Give Peace a Chance," but can't show up as he and Yoko are recovering from a car crash in Scotland. Ringo fills in instead.
1969, Brian Jones drowned while under the influence of drugs and alcohol after taking a midnight swim in his pool, aged 27. His body was found at the bottom of the pool by his Swedish girlfriend Anna Wohlin. The coroner's report stated "Death by misadventure", and noted his liver and heart were heavily enlarged by drug and alcohol abuse. Jones was one of the founding members of The Rolling Stones and in the early 60's used the name "Elmo Lewis."
1969, James Brown, Led Zeppelin, Jethro Tull, Sly and the Family Stone, Jeff Beck, Savoy Brown, Johnny Winter, Jethro Tull, Buddy Guy Blues Band, Mothers Of Invention and Ten Years After all appeared at the four day US Newport Jazz Festival in Rhode Island.
1970, The three day Atlanta Pop Festival took place, featuring The Allman Brothers, Jimi Hendrix, Jethro Tull, Johnny Winter, Mountain, Procol Harum and Rare Earth. Over 200,000 music fans attended the festival.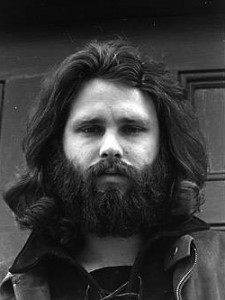 1971, American singer, songwriter and poet, Jim Morrison of The Doors was found dead in a bathtub in Paris, France, the cause of death was given as a heart attack. He co-wrote some of the group's biggest hits, including 'Light My Fire', 'Love Me Two Times', and 'Love Her Madly.' On the 25th anniversary of his death an estimated 15,000 fans gathered at Pere Lachaise Cemetery in Paris, France to pay their respects.
1972, Blues singer, guitarist Mississippi Fred McDowell died of cancer aged 68. The Rolling Stones covered his 'You Got To Move' on their 'Sticky Fingers' album. He coached Bonnie Raitt on slide guitar technique.
1973, Laurens Hammond the inventor of the Hammond organ died aged 73. Many rock artists including Procol Harum, Keith Emerson, Led Zeppelin, The Doors, The Allman Brothers and The Faces featured the sound of the Hammond. He also invented a silent spring-driven clock and during the second world war he helped design guided missile systems.
1973, On the last night of a 60 date tour David Bowie announced he was about to retire from live performing, although it eventually transpires that 'Ziggy Stardust' the stage persona is being retired and not Bowie himself.
1975, Lead singer from Three Dog Night Chuck Negron was arrested at his Louisville hotel room on the opening night of the bands tour and charged with possession of cocaine.
1976, Brian Wilson played his first live show with The Beach Boys in seven years when they appeared at the Anaheim Stadium, California.
Born on this day: Paul Barrerre, Little Feat (1948)
Get more history at Yeah Baby Tunes