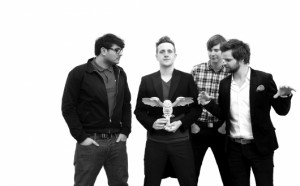 by Andrew David James
….Those plucky and wonderfully unique rockers from Sunderland are back with their fourth album and all the welcome for it. The Futureheads have, by their own admission, stuttered and started since their debut album in 2004. A beguiling record, it demonstrated their potential which they more than fulfilled on the louder and meatier 'News & Tributes' in 2006. They used a similar template in 2008 with the highly fulfilling 'This is Not the World' although the poppy atmospheric numbers had been phased out.
So we arrive at the crossroads with their fourth album 'The Chaos'….