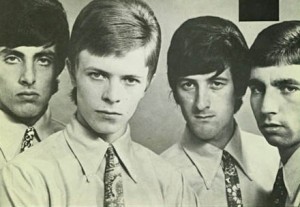 1965, David Jones' official stage name became David Bowie.
1966, During a US tour The Beatles appeared at the John F. Kennedy Stadium, Philadelphia playing their set during huge electric storm.
1966, The Byrds played the fist of two nights at the Fillmore Auditorium, San Francisco, California.
1968, The Jackson Five made their formal debut with Diana Ross and The Supremes at the Great Western Forum, California.
1968, Working at Abbey Road studios, The Beatles recorded 14 takes of the new George Harrison song 'While My Guitar Gently Weeps', taking the song from its early acoustic version into an electric version.
1968, Bruce Springsteen's new band Earth made their live debut at the Off Broad Street Coffee House in Red Bank, New Jersey, admission was 75c. The lineup of the group consisted of Springsteen (guitars & vocals), John Graham (bass), Michael Burke (drums) and 'Flash Craig' (organ). The group only had a 6-month existence.
1969, Crosby, Stills, Nash & Young supported by Joni Mitchell appeared at the Auditorium Theater in Chicago, Illinois.
1969, During a North American tour Led Zeppelin appeared at the Convention Hall in Asbury Park with Joe Cocker as support. Zeppelin had been asked to perform at Woodstock but due to this gig commitment were unable to attend. And down the road Bruce Springsteen's band Child played the first of two shows over two days at the Student Prince, Ashbury Park. Springsteen was also unable to attend Woodstock due to these gigs.
1970, The final day of the three day UK Yorkshire Folk, Blues & Jazz Festival at Krumlin, Yorkshire took place featuring The Kinks, Mungo Jerry, Yes, Ginger Bakers Air Force and Edgar Winter.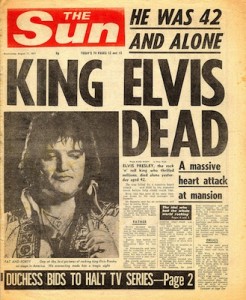 1975, Peter Gabriel announced he was leaving Genesis to go solo.
1977, Elvis Presley was found dead lying on the floor in his bathroom by his girlfriend Ginger Alden, he had been seated on the toilet reading 'The Scientific Search For Jesus'. He died of heart failure at the age of 42. His first record for RCA, 'Heartbreak Hotel', was also his first No.1. He starred in 31 films. Elvis holds the record for the most entries on the US Hot 100 chart with 154. Elvis became the first rock 'n' roll artist to be honored by the US Postal Service with a stamp.
1977, Manchester punk band The Buzzcocks signed to EMI's United Artists label.
Born on this day: Kevin Ayers, Soft Machine (1945) and Madonna (1958)
Get more history at Yeah Baby Tunes