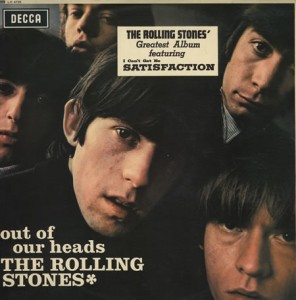 1965, The Rolling Stones started a three week run at No.1 on the album chart with 'Out Of Our Heads' the group's first No.1 album.
1965, During a 17 date UK tour The Who played at the Palais in Bournemouth.
1966, On their last ever US tour The Beatles performed in two cities due to a cancellation due to rain the previous day. First they performed at Crosley Field in Cincinnati, Ohio. Then they flew to St. Louis, Missouri, for a concert at Busch Stadium, where they performed under a tarpaulin due to heavy rain. It was this gig that convinced Paul McCartney that The Beatles should stop performing live.
1967, The Doors started recording their second album at Sunset Sound Studios, Hollywood, California.
1968,Tommy James and The Shondells returned to the No.1 position for the second time with the single 'Mony Mony'.
1969, During a North American tour Led Zeppelin appeared at the Carousel Theatre in Framingham, Massachusetts.
1972, Jack Casady of Jefferson Airplane was arrested after a fight broke out on stage during a concert when the police had been called 'pigs'. Grace Slick was 'maced' and another group member injured at the show in Akron.
1976, The Rolling Stones, 10CC, Lynyrd Skynyrd, Todd Rundgren's Utopia and Hot Tuna all appeared at The Knebworth Festival, Hertfordshire, England.
Born on this day: Kenny Rogers (1937), Joe Strummer (1952)
Get more history at Yeah Baby Tunes