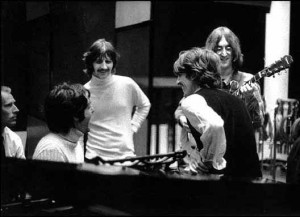 1968, Ringo Starr quit The Beatles during the White Album sessions when the constant bickering and tension became too much for him. The news of Ringo's departure was kept secret, and he rejoined the sessions on September 3. After Ringo walked out, the remaining Beatles recorded 'Back In the USSR', with Paul on drums and John playing bass.
1969, During a North American tour Led Zeppelin played the first of two nights at Pirates World in Dania, Florida. Also on the bill were The Royal Ascots, Brimstone and The Echo.
1969, The Beatles met at John Lennon's Tittenhurst Park home in England for their final ever photo session. Three shots from this session (by Ethan Russell) formed the front and back covers of the Capitol compilation album Hey Jude. Yoko Ono and a pregnant Linda McCartney (she was to give birth to daughter Mary six days later) appeared in some photographs with The Beatles.
1970, Creedence Clearwater Revival started a nine-week run at No.1 on the album chart with their fifth studio album 'Cosmo's Factory'. The name of the album comes from the warehouse in Berkeley where the band rehearsed. Bandleader John Fogerty was so insistent on practicing (nearly every day) that drummer Doug "Cosmo" Clifford began referring to the place as "the factory".
1970, The Moody Blues started a three-week run at No.1 on the album chart with 'A Question Of Balance'.
1970, Derek and the Dominoes appeared at the Van Dike in Plymouth, England.
1971, Bob Dylan, Joan Baez, and Peter, Paul & Mary all appeared at the Odeon Theatre, Edinburgh, Scotland.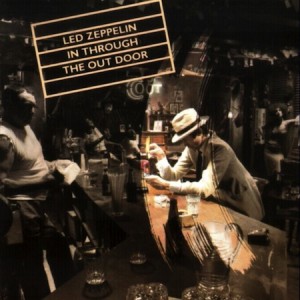 1974,  During the recording sessions for David Bowie's Young Americans, the fans had keeping a vigil outside Philadelphia's Sigma Sound Studios, and were invited into the studio at 5am to hear a playback of the album so Bowie could see their reactions to the music.
1979, Led Zeppelin released In Through the Out Door, their last album of original material, 'Fool in the Rain' was released as a single in the US.
1980, During a North American tour Queen appeared at The Spectrum in Philadelphia, Pennsylvania.
Born on this day: John Lee Hooker (1920) Donna Godchaux, Grateful Dead (1947) and Vernon Reid, Living Colour (1958)
Get more history at Yeah Baby Tunes