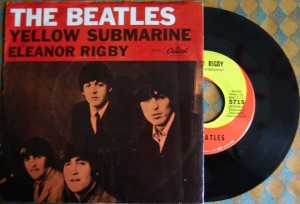 1966, The Beatles were at No.1 on the singles chart with the double a sided 'Yellow Submarine – Eleanor Rigby'. The group's eleventh No.1.
1966, On their final tour of America, The Beatles performed at Shea Stadium in New York City, New York. Unlike the previous year's performance, which had sold out, there were 11,000 empty seats in the 55,600 seat stadium. The Beatles earn more than the previous year, receiving $189,000 for their performance.
1967, During a North American tour Herman's Hermits supported by The Who appeared at Atwood Stadium, Flint in Michigan.
1967, Joni Mitchell played her first ever UK show when she opened for The Piccadilly Line at The Marquee Club in London.
1968, During a North American tour The Jimi Hendrix Experience appeared at Singer Bowl, Flushing Meadow Park, New York. Also on the bill Soft Machine and Big Brother and the Holding Company.
1969, The Rolling Stones started a four week run at No.1 on the singles chart with 'Honky Tonk Women' the group's fifth No.1.
1969, Ibex, featuring vocalist Freddie Bulsara (later Freddie Mercury), played a gig at the Octagon Theatre, Bolton, Lancashire, UK.
1970, Lou Reed and the Velvet Underground performed together for the last time at the New York Club 'Max's Kansas City'. Reed worked as a typist for his father for the next two years, at $40 per week.
1971, During a North American tour Led Zeppelin appeared at the Tarrant County Convention Center, Fort Worth Texas.
1975, Joy Division singer Ian Curtis married Deborah Woodruff, whom he met while still at school, when he was 19 and she was 18. They remained married until his death when he hanged himself in the kitchen of his house in Macclesfield, England at the age of 23.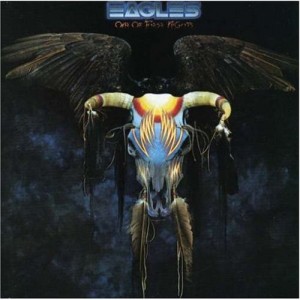 1975, One of These Nights by the Eagles entered its last week atop the US album charts.  Elton John's Captain Fantastic would knock it from the number one spot.
1980, David Bowie was at No.1 on the singles chart with 'Ashes To Ashes' his second No.1. Taken from the Scary Monsters (and Super Creeps) album, the song continued the story of Major Tom from Bowie's 'Space Oddity'. The video for 'Ashes to Ashes' was one of the most iconic of the 1980s and costing £250,000, it was at the time the most expensive music video ever made.
Born on this day: Keith Moon (1947)
Get more history at Yeah Baby Tunes