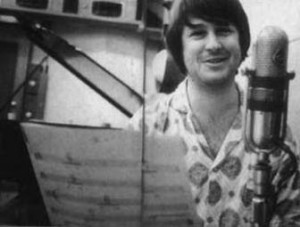 1967, Brian Wilson returned to performing live with The Beach Boys in Honolulu after a 2 year hiatus. The group had just released 'Heroes and Villains'
1970, A party was held to celebrate the official opening of 'Electric Ladyland' studios in New York City, New York. Artists who went on to record at the studio include: Jimi Hendrix, John Lennon, AC/DC, David Bowie, Stevie Wonder, Frank Zappa and Guns N' Roses.
1970, Elton John made his US live debut when he kicked off a 17-date tour at the Troubadour in Los Angeles. In the audience that night were Don Henley, Quincy Jones and Leon Russell. Elton's latest single 'Border Song' had just debuted at number 92 on the US chart.
1970, Emerson Lake and Palmer made their live debut at The Guildhall, Plymouth, England.
1971, During a North American tour Led Zeppelin played at Sam Houston Coliseum in Houston, Texas.
1973, Donny Osmond was at No.1 on the singles chart with 'Young Love' his third and last No.1. Tab Hunter also had a hit with the song in 1957.
1973, One hit wonders, Stories started a two week run at No.1 on the singles chart with 'Brother Louie'.
1973, Bobby Darin performed his final concert, at the Las Vegas Hilton. He died at the age of 37 on December 20th 1973 following open-heart surgery.
1979, The Knack started a five week run at No.1 on the US singles chart with 'My Sharona', the group's only chart topper.  Lead singer Doug Fieger said he was inspired to write the tune by Sharrona Alperin, a 17 year old senior at Los Angeles' Fairfax High.
Born on this day: Gene Simmons (1949) and Elvis Costello (1954)
Get more history at Yeah Baby Tunes