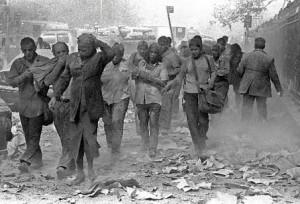 I was at home alone. Tyler was in Daycare, the two older kids were in school, and my wife was at work.
I rolled over and turned on the TV. The Today Show was on. Before I had even opened my eyes, I heard the voice of Katie Couric saying something to the effect of "What you are seeing is real….it is not something out of a Hollywood movie….as you can see….one of the towers of the World Trade Center is on fire after reportedly being hit by a small plane just minutes ago…"
I don't even remember why I did it, but I jumped up, grabbed a blank VHS tape, and started recording everything from that point onward.
I was watching and recording as the second plane hit. At that point, people knew that it was a major terrorist attack. I called my parents and frantically told them to turn on their TV set.