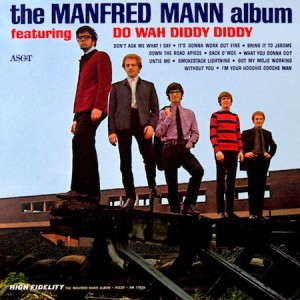 1964, Manfred Mann started a two week run at No.1 on the US singles chart with 'Do Wah Diddy Diddy', possibly the first No.1 with a nonsense song title. Also a No.1 in the UK, the song was first released by the US group The Exciters.
1967, A 10-date package tour of the UK played the last night at the De Montfort Hall, Leicester featuring Traffic, The Young Rascals, Vanilla Fudge, Art and Keith West.
1969, Paul Kantner of Jefferson Airplane was busted for marijuana possession in Honolulu and was fined $350.
1969, The Kinks play their first concert in the U.S. in four years, supporting Spirit at New York's Fillmore East. The American Federation of Musicians banned the group from playing there after a disastrous 1965 tour during which the band spent as much time fighting onstage as playing music.
1969, Led Zeppelin kicked off their fourth North American tour at Carnegie Hall in New York City.
1970, The Jackson Five started a five-week run at No.1 on the US singles chart with 'I'll Be There'. The group's fourth No.1 of 1970, it made No.4 in the UK. Motown records claimed the group had sold over 10 million records during this year.
1970, Pink Floyd played the second of two nights at Pepperland Auditorium in San Rafael, California.
1973, The Rolling Stones performed two shows at Foret Nationale, Brussels, Belgium, as part of a tour of the UK and Europe. Opening for the tour's shows were Billy Preston and American group Kracker, the first band to be signed to Rolling Stones Records. Bobby Keys didn't show up for the concert, which resulted in him being banned by Mick Jagger from future Rolling Stones tours until 1989, with occasional exceptions. According to legend Bobby missed the gig due to him filling a hotel bathtub with Dom Perignon champagne and drinking most of it.
1978, The Grateful Dead performed the first of five nights at Winterland Auditorium in San Francisco, after their triumphant return from shows at the pyramids in Egypt.
Born on this day:  Garry Puckett, of the Union Gap, (1947) , Michael Mckean, Spinal Tap (1947) and Ziggy Marley (1968)
Get more history at Yeah Baby Tunes