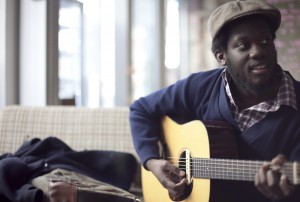 Review by Elliott Childs
…Today I take a break from my usual remit of bringing you lost and forgotten albums and try something a bit different, but still mining a similar vein. If you are anything like I am, music is very strongly connected to emotions, people, places and certain times.
Usually these connections happen by chance and it's not really a conscious decision. I've decided to change that. I don't like the fact that my subconscious is making these links for me. I don't trust it not to link some of my favourite songs with painful memories or to soundtrack the happier times with a third rate Britney Spears single. So I have made a conscious decision to have emerging British singer/songwriter, Michael Kiwanuka's soon to be released song "Tell Me A Tale" as my soundtrack to this summer.