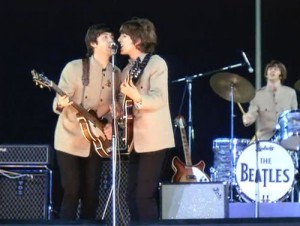 1966, The Beatles record overdubs onto the film The Beatles at Shea Stadium. That night, John Lennon goes nightclubbing with '50s rocker P.J. Proby.
1967, Pink Floyd appeared at The Marquee Club, London, England.
1967, During The Beatles Sgt Pepper sessions at Abbey Road in London, Paul McCartney recorded his vocal track on 'Penny Lane.'
1968, Jimi Hendrix was jailed for one day in Stockholm, Sweden on drink charges after going berserk and destroying everything in his room at the Goteberg Hotel.
1970,   "Raindrops Keep Fallin' on My Head," B.J. Thomas is the number one on the charts. The song appears in the movie "Butch Cassidy and the Sundance Kid" starring Paul Newman.
1972, David Bowie played two shows at Green's Playhouse, Glasgow, Scotland.
1973, Bruce Springsteen released his debut album 'Greetings from Asbury Park, NJ.'
1974, The Carpenters went to No.1 on the album chart with 'The Singles 1969-1973′.
1974, Yes scored their first No.1 album with the double set 'Tales From The Topographic Oceans'.
1977, Led Zeppelin rehearse at Emerson Lake & Palmer's studio in preparation for a North American tour.
1978, The Sex Pistols started a US tour in Atlanta, Georgia before an estimated audience of 500 people.
1979, Jazz musician and bandleader Charles Mingus died aged 56. His final project was 'Mingus' a collaboration with Joni Mitchell.
Born on this day: Sam Phillips, Sun Records (1923) ; George Brown, Kool & the Gang (1949);and Chris Stein, Blondie (1950)