Last week we lost a very familiar voice in rock. Reg Presley of The Troggs died too recently to make the Memorium at last night's Grammys but we remember him today with a great cover of a song written by him. Please remember Reg Presley.
Click the pic to play.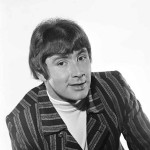 Presley, whose stage name was given to him in 1965 by the New Musical Express journalist and publicist Keith Altham, was born at 17 Belle Vue Road,[citation needed] Andover, Hampshire.[1] He joined the building trade on leaving school and became a bricklayer. He kept up this occupation until "Wild Thing" entered the UK Singles Chart in 1966.[2] It reached No. 2 in the U.K. but No. 1 in the U.S., and sold five million copies.
Presley wrote the hits "With a Girl Like You" and "I Can't Control Myself," but his most famous composition is "Love Is All Around". Wet Wet Wet's 1994 cover stayed at No. 1 in the UK Singles Chart for fifteen weeks. Presley used his royalties from that cover to fund his research subjects, such as alien spacecraft, lost civilisations, alchemy, and crop circles and outlined his findings in a book, Wild Things They Don't Tell Us, published in October 2002.[2][3]
Health problems and death
In December 2011, Presley was hospitalized in Winchester, Hampshire, with what was suspected to be a stroke. He was also suffering from pneumonia and fluid around the heart. Presley had suffered a major stroke about a year before. His wife said he first began to feel bad while performing in Germany on 3 December 2011 and had got progressively worse. "Doctors think he has had another stroke. He's not very well and I have no idea how long he'll be in hospital", she said.[4] The following month, Presley announced he had been diagnosed with lung cancer and therefore decided to retire from the music industry.[5] Just over a year later, on 4 February 2013, Presley died from this cancer and, according to Altham, "a succession of recent strokes".[
Podcast: Play in new window | Download (0.3KB)