We introduce Michael Jackson to the podcast for the first time today. It took 700 shows but he finally made the cut. Great song, great story..Happy Monday. Please give it a listen.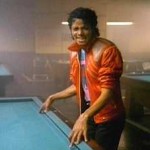 "Beat It" is a song written and performed by American recording artist Michael Jackson, and produced by Quincy Jones (with co-production by Jackson). It is the third single from the singer's sixth solo album, Thriller (1982). Eddie Van Halen played the song's distinctive overdriven guitar solo, but was prevented by his record label from appearing in the music video. He did appear on stage with Jackson in Dallas during the Jackson brothers "Victory Tour." Following the successful chart performances of the Thriller singles "The Girl Is Mine" and "Billie Jean", "Beat It" was released on February 3, 1983 as the album's third single. The song was promoted with a short film that featured Jackson bringing two gangs together through the power of dance.
A Platinum-certified 45, "Beat It" received the Grammy Awards for Record of the year and Best Male Rock vocal performance, as well as two American Music Awards and was inducted into the Music Video Producers Hall of Fame. "Beat It" (along with the song's music video) propelled Thriller into becoming the best-selling album of all time. The single was certified platinum in 1989. Rolling Stone magazine placed "Beat It" in the 344th spot on its list of The 500 Greatest Songs of All Time. "Beat It" was also ranked No. 81 in Rolling Stone's "100 Greatest Guitar Songs of All Time".[3]
In the decades since its release, "Beat It" has been covered, parodied, and sampled by numerous artists including Pierce the Veil, Fall Out Boy, Pomplamoose, Justin Bieber, Alvin and the Chipmunks, Fergie, "Weird Al" Yankovic and Eminem. The song was also featured in the National Highway Safety Commission's anti-drunk driving campaign.
Podcast: Play in new window | Download (0.3KB)