If you want to know where Eddy (Electric Avenue) Grant started, listen no further than this song by The Equals. Bart Shore, host of Time Warp Radio and Newsradio traffic reporter in Chicago fills in for me today.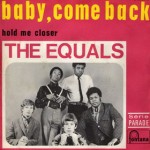 In 1965, the group began playing together on a Hornsey Rise council estate.[2] The Equals released "Hold Me Closer" / "Baby, Come Back" single in 1966. It did not do well in the United Kingdom, but went to the number one position in Germany and the Netherlands. On the song's re-issue in the UK, it also reached the top position, giving President Records their only number one hit.[3] In June 1969, the group received a gold disc for a combined one million sales of the disc.[2] The year 1968 saw the release of "I Get So Excited" , and reached the Top 50 of the UK Singles Chart. In September 1969, according to reports, all five group members were injured in a motorway car accident in Germany.[4]
A string of single releases followed up to 1970, all of which charted in the UK. The group also attracted attention as one of the few racially integrated bands of the 1960s, which was reflected in the group's name: The Equals.
At the beginning of 1971, Grant suffered a collapsed lung and heart infection, following which he returned to Guyana.[4] He promptly left The Equals to pursue his solo career. In the late 1970s and early 1980s Grant released several Top 40 singles, including "Living On The Front Line", "Electric Avenue" and "Romancing the Stone". Grant also topped the UK Singles Chart in 1982 with "I Don't Wanna Dance". Although The Equals never charted again after Grant's departure, they remained a popular live act, performing into the late 1970s and beyond.
In 1980, The Clash recorded a cover version of The Equals' song "Police On My Back" (a track from the group's Baby, Come Back album). In 2006 Willie Nile released his cover of "Police on My Back" on his Streets of New York CD.
The Equals' song "Green Light" was covered by The Detroit Cobras, on their 2007 album, Tied & True.
The song "Baby, Come Back" refused to go away. It returned in 1994, when Pato Banton scored a UK number one with his cover.
Chelsea Handler described a meeting with Pat Lloyd in chapter 6 of her book, Are You There, Vodka? It's Me, Chelsea.
Podcast: Play in new window | Download () | Embed