This week we feature the girls and one of the best one to start the week off with would be one of my favorites in Laura Nyro. Today"s song became a hit for another New Yorker so please give it a listen here.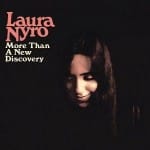 Nyro was born Laura Nigro in the Bronx, New York, the daughter of Gilda Mirsky Nigro, a bookkeeper, and Louis Nigro, a piano tuner and jazz trumpeter. Laura had a younger brother, Jan Nigro. Laura was of Russian Jewish, Polish and Italian ancestry.[5] As a child, she taught herself piano, read poetry, and listened to her mother"s records by Leontyne Price, Billie Holiday and classical composers such as Ravel and Debussy. She composed her first songs at age eight. With her family, she spent summers in the Catskill Mountains, where her father played the trumpet at resorts. She credited the Sunday school at the New York Society for Ethical Culture with providing the basis of her education; she also attended Manhattan"s High School of Music and Art.[6]
Nyro was very close to her aunt and uncle, the artists Theresa Bernstein and William Meyerowitz, who helped to support her education and early career.
While in high school, she sang with a group of friends in subway stations and on street corners. She said, "I would go out singing, as a teenager, to a party or out on the street, because there were harmony groups there, and that was one of the joys of my youth."[7] Among her favorite musicians were John Coltrane, Nina Simone, Pete Seeger, Curtis Mayfield, Van Morrison, and girl groups such as The Supremes, Martha and the Vandellas and the Shirelles. She also commented: "I was always interested in the social consciousness of certain songs. My mother and grandfather were progressive thinkers, so I felt at home in the peace movement and the women"s movement, and that has influenced my music."[7]
Early career
Her father's work brought him into contact with record company executive Artie Mogull (1927–2004),[8] and his partner, Paul Barry (1912–1987) who auditioned Laura in 1966 and became her first managers. However, Louis Nigro claims that he "not even once" mentioned Laura to any of his clients, adding "they would have laughed at me if I did."[5] As a teenager she experimented with using different names, and Nyro (NEAR-oh) was the one she was using at the time. She sold her song "And When I Die" to Peter, Paul and Mary for $5,000, and made her first extended professional appearance, at age 18, singing at the "hungry i" coffeehouse in San Francisco. Mogull negotiated her a recording contract, and she recorded her debut album, More Than a New Discovery, for the Verve Folkways label. The album provided material for other artists, notably the 5th Dimension and Barbra Streisand.
In 1967, Nyro made only her second major live appearance, at the Monterey Pop Festival. Although some accounts described her performance as a fiasco that culminated in her being booed off the stage,[9] recordings later made public contradict this view.[6]
Soon afterwards, David Geffen approached Mogull about taking over as her agent. Nyro successfully sued to void her management and recording contracts on the grounds that she had entered into them while still a minor. Geffen became her manager, and the two established a publishing company, Tuna Fish Music, under which the proceeds from her future compositions would be divided equally between them. Geffen also arranged Nyro's new recording contract with Clive Davis at Columbia Records, and purchased the publishing rights to her early compositions. In his memoir Clive: Inside the Record Business, Davis recalled Nyro"s audition for him: she"d invited him to her New York apartment, turned off every light except that of a television set next to her piano, and played him the material that would become Eli and the Thirteenth Confession. Around this time, Nyro considered becoming lead singer for Blood, Sweat & Tears, after the departure of founder Al Kooper, but was dissuaded by Geffen. However, BS&T would go on to have a hit with a cover of "And When I Die."
The new contract allowed Nyro more artistic freedom and control. In 1968, Columbia released Eli and the Thirteenth Confession, her second album. This received high critical praise for the depth and sophistication of the performance and arrangements, which merged pop structure with inspired imagery, rich vocals and avant-garde jazz, and is widely considered to be one of her best works. It was followed in 1969 by New York Tendaberry, another highly acclaimed work which cemented Nyro's artistic credibility. The record"s "Time and Love" and "Save the Country" emerged as two of her most well-regarded and popular songs in the hands of other artists. Her own recordings sold mostly to a cult audience. This prompted Clive Davis, in his memoir, to note that her recordings, as solid as they were, came to resemble demonstrations for other performers.
Her fourth album, Christmas and the Beads of Sweat, was issued at the end of 1970. The set contained the songs "Upstairs By a Chinese Lamp" and "When I Was a Freeport and You Were the Main Drag". It featured Duane Allman and other Muscle Shoals musicians. The following year's Gonna Take a Miracle was an album of her favorite "teenage heartbeat songs", recorded with vocal group Labelle (Patti Labelle, Nona Hendryx and Sarah Dash) and the production team of and Leon Huff. With the exception of her attribution of the song "Désiree" (originally "Deserie" by The Charts), this was Nyro"s sole album of wholly non-original material, featuring such songs as "Jimmy Mack", "Nowhere to Run", and "Spanish Harlem".
Podcast: Play in new window | Download (0.3KB)