As summer comes to a broiling halt soon I am featuring a song today that I haven't heard in years. It's from Pablo Cruise..remember those guys? Well you will when you click in to hear today.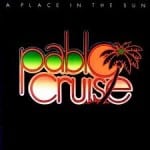 Pablo Cruise began in San Francisco, in 1973, with former members of Stoneground (Cory Lerios on keyboards and vocals, David Jenkins as vocalist and on guitar, and Steve Price on drums) and It's a Beautiful Day (Bud Cockrell on bass and vocals).[1] Initially, there were many fans who were left wondering who Pablo Cruise really was. When asked the question, the band, which is a quartet, would answer, "He's the guy in the middle." When asked what Pablo Cruise meant, the band would say that "Pablo represents an honest, real, down to earth individual; and Cruise depicts his fun loving and easy going attitude towards life." [2]
The band released its first album in 1975, a minor success self-titled Pablo Cruise,[3] and their second album in 1976, titled Lifeline. Their second album achieved slightly higher success than their first but still only managed to chart at No. 139 in the United States.
1977's A Place in the Sun was the turning point in the band's career as they finally entered the mainstream music scene. With hit single "Whatcha Gonna Do?" and the title track "A Place in the Sun", the album peaked at No. 19 on the Billboard charts. Other chart hits followed, including "Love Will Find a Way" and "Don't Want to Live Without It" (both in 1978), "I Want You Tonight" in 1979, and "Cool Love" in 1981.[4]
Podcast: Play in new window | Download (0.3KB)