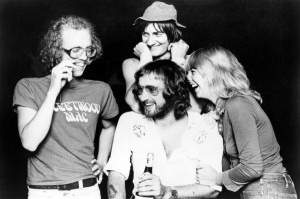 1971, Fleetwood Mac appeared at Up The Junction in Crewe, England.
1974, Peter Hoorelbeke, drummer with Rare Earth, was arrested after a concert for throwing his drumsticks into the crowd.
1975, Elvis Presley had a face-lift at Mid South hospital, Memphis.
1976, Abba gave a special live performance in Stockholm for Sweden's King Carl XVI Gustaf and Silvia Sommerlath on the eve of their wedding.
1977, Tom Petty and the Heartbreakers supported by The Boomtown Rats appeared at Friars, Aylesbury, England.
1977, Fleetwood Mac went to No.1 on the singles chart with "Dreams," the group's first and only No.1
1977, Johnny Rotten and Paul Cook of The Sex Pistols were stabbed and beaten when they were attacked in a parking lot outside a London pub.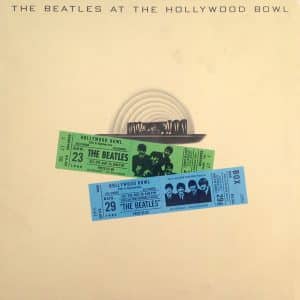 1977, The Beatles Live At The Hollywood Bowl went to number one on the album chart The album featured recordings from  August 23rd 1964 and  August 30th 1965.
1980, The Blues Brothers, starring Dan Aykroyd and John Belushi as the deadpan R&B team, premieres in New York.
1993, A&M Records chairman Jerry Moss and vice-chairman Herb Alpert announced they were leaving the company they founded more than 30 years earlier. They had sold A&M in 1990 to Polygram for $500 (£312.5) million. Moss and Alpert started the label in the garage of Alpert's Los Angeles home in 1962. The label was the home to such acts as The Police, Bryan Adams, Joan Baez, Flying Burrito Brothers, The Carpenters, Joe Cocker, Supertramp and Herb Alpert's own Tijuana Brass.
2002, U2 lost a bid to prevent the demolition of Hanover Quay studio in Dublin. More than 8,000 fans signed an online petition to preserve the studio, where the group recorded "All That You Can't Leave Behind" and some of their Pop album.
2003, Pop Idol creator Simon Fuller became the first British music manager since The Beatles' Brian Epstein to hold the top three positions in the US singles chart. Fuller, who steered the Spice Girls and S Club 7 to success, was in charge of bestselling artists Clay Aiken and Ruben Studdard, together with the American Idol 2 Final 10. During 2003 Fuller sold more than ten million records around the world and has had 96 number one singles and 79 top-placed albums in both the US and UK during his career.
2007, American singer and record producer Hank Medress died of lung cancer at 68. He was the vocalist on The Tokens 1961 US No.1 hit "The Lion Sleeps Tonight," Medress was also in the vocal quartet The Linc-Tones with Neil Sedaka and produced the hit single "He's So Fine"' by The Chiffons, as well as Tony Orlando's "Knock Three Times."
Born on June 18: Paul McCartney (1942); Carl Radle, bass, Derek and the Dominoes (1942);  Lincoln Thompson, Jamaican singer-songwriter, The Tartans (1949); Alison Moyet, Yazoo (1961); Oz Fox, American singer-songwriter, guitarist, producer, Stryper, SinDizzy,  Bloodgood (1961); Dizzy Reed, American keyboard player, songwriter, actor, Guns N' Roses and Johnny Crash (1963); Nathan Morris, American singer, Boyz II Men (1971);