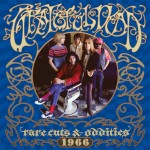 I'm a dyed in the wool, straight up record collector. I've been collecting records for more than 40 years and my thirst for music is pretty much insatiable.
Today, I got totally played on by "the man." I'm talking about "the man" who presses the records I buy. The man that I help keep relevant by going back to the tap and sipping in new music in all different formats. It gives me pleasure and enjoyment.
By now, record labels fully how to push record collector buttons to get me back into the record store. They've turned record buying into a holiday, an event that I literally totally buy into. All the buzz words are fully at play here: "limited edition," "180 gram," "colored vinyl," "MONO," "previously unreleased," I'm a total sucker for all of the above. It's much more than my love for the music; it's also the appreciation of great sounding physical product.
So, Record Store Day (RSD) comes twice a year, once in April, and once on Black Friday in November. The Black Friday RSD is a recent addition, and judging by the turnout last November, is here to stay. Today was the seventh RSD, and while this is only the fourth I've participated in, I do find myself getting exciting, and yes sometimes a little apprehensive, about getting the titles I'm interested in as I begin to drink in the hype well in advance of RSD.
I go to this store in Barrington, Illinois called Rainbow Records. This morning, I got there at 8:15 and found my place in line was already at 13. The store is just the kind of record store I like, a great selection of used records at reasonable (for retail) prices, and a well-curated selection of new releases by longtime owner, John Thominet. Thominet is the fifth owner of Rainbow which has been around since the 1970s. Thominet is also the kind of guy who fosters community around him which breeds a great atmosphere to hang out in.
My wife, who tolerates all of this nonsense (and has done so for years), gamely went with me for the ride although she stayed in the car where it was warm and enjoyed the parade of males before her, all of paunch and receding hairlines, including of course, me in line. However, there were plenty of younger people in line as well. It was a cool enough group of people. We all swapped war stories about record collection and past RSD and what we were hoping to add to our collections.
I did very well. I was most interested in obtaining the Grateful Dead's 2 LP Rare Cuts & Oddities 1966. The album was originally released over ten years ago through the band's distribution channel as a limited edition CD only, and it has long been out of print. I love 1966 Grateful Dead. Garcia was a much different guitar player back then. He was a far more conventional and played much harder then, but boy he sure could ramble. It was far different than the type of fluid/noodling kind of jamming he ended up doing. The material on this album is all stellar too. Lots of organ-drenched covers including rare studio demos and alternate takes of "Good Lovin," "Walking The Dog," "Silver Threads And Golden Needles," and very early versions of "Not Fade Away" and "Promised Land" (with Jerry on vocals instead of Bob)that never ever left their repertoire.
I also picked up a couple of the Miles Davis reissues today. I originally purchased most of my Miles vinyl in college during the late '70s and early '80s when I worked in record stores. At the time they were only selling re-channeled fake stereo pressings of the albums Milestones and Round About Midnight. It never really bothered me; it was the only way I knew the records until they were properly reissued on CD many years later. So today, I picked up MONO 180g individually numbered pressings of both records. I listened to them in their entirety this afternoon at a pretty nice volume and, I'm here to say, that these records have never sounded better. The bass on this pressing is so vivid, it generates an energy that just couldn't be felt on my old pressings of these two classic albums.
I also got several other albums by the likes of The White Stripes (Elephant), Flaming Lips (Zaireeka), Shuggie Otis (Introducing) and also some cool singles by Bob Dylan, David Bowie, Frank Zappa and Pink Floyd.
Yup, I got played by "the man." I took the bait like catnip, and I'm happy I did. I'll write about some of these other records as I ingest them, so stay tuned.