What could arguably be called the theme song for the Monterey Pop Festival is our Classic Deep Cut today by Eric Burdon and The Animals. Click the pic to play.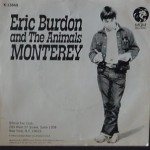 The Monterey International Pop Music Festival was a three-day concert event held June 16 to June 18, 1967 at the Monterey County Fairgrounds in Monterey, California. Monterey was the first widely promoted and heavily attended rock festival, attracting an estimated 55,000 total attendees with up to 90,000 people present at the event's peak at midnight on Sunday.[1]
The festival is remembered for the first major American appearances by Jimi Hendrix, The Who and Ravi Shankar, the first large-scale public performance of Janis Joplin, and the introduction of Otis Redding to a large, predominantly white audience.[2]
The Monterey Pop Festival embodied the themes of California as a focal point for the counterculture and is generally regarded as one of the beginnings of the "Summer of Love" in 1967,[3] along with the Fantasy Fair and Magic Mountain Music Festival held at Mount Tamalpais in Marin County a week earlier.[4] Monterey became the template for future music festivals, notably the Woodstock Festival two years later.
Podcast: Play in new window | Download (0.3KB)