When the weather is cold and our trip out West is finished it is time to pick out a song that would bring us back there. How about today's song that even I forgot about from America.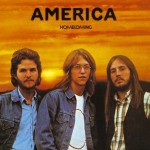 Homecoming is a 1972 (see 1972 in music) album by America. Acoustic guitar-based, with a more pronounced electric guitar and keyboard section than their first album, their second effort helped continue America's success, and includes one of their best known hits, "Ventura Highway".
Homecoming peaked at #9 on Billboard's Pop Albums chart and was certified platinum by the RIAA. It produced three hit singles: "Ventura Highway" which peaked at #8 on the Billboard singles chart and #3 on the Adult Contemporary chart; "Don't Cross the River" which hit #35 on Billboard and #23 on the Adult Contemporary chart; and "Only in Your Heart" peaked at #62 on Billboard's Pop singles chart. Several other songs received radio airplay on FM stations playing album tracks including "To Each His Own", "California Revisited", and "Cornwall Blank".
Podcast: Play in new window | Download (0.3KB)