Yesterday was Neil Young..today David Crosby is up with the opening track from his first solo album.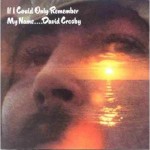 David Crosby was born in Los Angeles, California. His parents were Aliph Van Cortlandt Whitehead (a descendent of the prominent Van Cortlandt family) and Floyd Crosby, an Academy Award winning cinematographer. He is also the younger brother of musician Ethan Crosby. Growing up in California, he attended several schools, including the University Elementary School in Los Angeles, the Crane Country Day School in Montecito, and Laguna Blanca School in Santa Barbara for the rest of his elementary school and junior high.[1] At Crane, he starred in HMS Pinafore and other musicals but was asked not to return due to lack of academic progress. He graduated from the Cate School in Carpinteria, completing his studies by correspondence. In 1960, his parents divorced, and his father was remarried to Betty Christie Crosby.
Crosby also attended Santa Barbara City College.[1] Originally, he was a drama student, but dropped out to pursue a career in music. He moved toward the same Greenwich Village scene (as a member of the Les Baxter's Balladeers) Bob Dylan participated in, and even shared a mentor of Bob Dylan's in a local scene favorite Fred Neil. With the help of producer Jim Dickson, Crosby cut his first solo session in 1963.
Podcast: Play in new window | Download (0.3KB)