Today Graham Nash is with us from his first solo album Songs For Beginners. Good song today!…and fitting.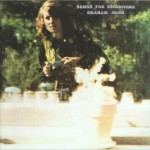 Nash was born in Blackpool, Lancashire, England, in 1942, his mother having been evacuated there from the Nash's hometown of Salford, Lancashire because of the Second World War. The family subsequently returned to Salford, where Graham grew up. In the early 1960s he was co-founder with schoolfriend Allan Clarke of The Hollies. Nash was a leading 'group figurehead' member of The Hollies, one of the UK's most successful pop and "British Invasion" groups. Credited on the first album as 'Group Leader' and recognised as a key member of the group, plus their public spokesman, he occasionally took a lead vocal. Nash was featured vocally on 'Just One Look' in 1964, and sang his first lead vocal on the original Hollies song "To You My Love" on the band's second album In The Hollies Style (1964). He then progressed to often singing featured 'bridge vocals' on Hollies recordings; 'So Lonely', 'I've Been Wrong' 1965, 'Pay You Back With Interest' 1966 etc., also by 1966 Nash was providing a few solo lead vocals on Hollies albums & then from 1967 'B' sides to singles.
In 1965 Nash with Allan Clarke & guitarist Tony Hicks formed 'Gralto Music Ltd' a publishing company who handled their own songs and later signed the young Reg Dwight (aka 'Elton John' – who played piano & organ on Hollies 1969 and 1970 recordings after Nash's exit from the group).
Nash led the vocals on Hollies hits such as "On A Carousel" (1966), then was both a featured lead vocal verse singer (along with Allan Clarke & Tony Hicks) and took all three chorus harmony vocal parts on "Carrie Anne" (1967). From 1963 he had instigated The Hollies writing their own songs – initallly with Clarke (Nash's first written song with Clarke being the Everlys-inspired "Whole World Over"), then from 1964 to mid-1966 Clarke-Hicks-Nash wrote as 'L.Ransford', before their own names were credited on songs from "Stop Stop Stop" (October 1966) onwards. Nash wrote or co-wrote many of the band's original songs, most often early on in collaboration with Allan Clarke and also then together with Tony Hicks up to Nash's departure from the band in December 1968.
Nash was pivotal in the forging of a sound and lyrics, often chiefly writing the verses on original team composed Hollies songs showing an obvious hippie influence on The Hollies' albums. However, Nash also wrote solo under the 'team banner' (like Lennon & McCartney), his songs such as "Fifi The Flea" (1966, featuring just Nash's voice and an acoustic guitar), "Clown" (1966), "Stop Right There", "Everything is Sunshine" (1967) and several of his lead vocal songs on the Butterfly album carried little or no trademark harmonies (sometimes just his own harmonies), sometimes scant group accompaniment – "Sunshine", "Relax", etc.' – and reflected a singer/songwriter approach, later with songs of an 'escapist' nature ("Away Away Away", "Postcard" etc.). He was disappointed when his transition in sound did not register with the audience that the Hollies played to, including when "King Midas In Reverse" did not gain the popularity he expected it to (Nash had clashed with longtime Hollies producer Ron Richards over this, Richards believing the song was 'too complex' to work as a hit single). Nash greatly influenced the direction of Evolution, and Butterfly, a collection that brought differing opinions on the band's musical direction to the fore.
Nash initallly met both David Crosby and Stephen Stills in 1966 among a group of USA musician friends during a Hollies USA tour. In 1968, after a further visit to the US during which he met David Crosby in Laurel Canyon, Nash left The Hollies to form a new group with Crosby and Stephen Stills. A threesome at first, Crosby, Stills & Nash later became a foursome with Neil Young: Crosby, Stills, Nash & Young (CSNY). With them, Nash went on to even greater worldwide success, penning many of CSN's most commercial hit singles such as; "Marrakesh Express" (1969 – written earlier & initially cut in unfinished form by The Hollies back in 1968), "Just A Song Before I Go" (1977) and later "Wasted on the Way" (1982). Both Nash's "Our House" and "Teach Your Children" (CSNY recordings from the album Deja Vu in 1970) have become well known items used in both TV commercials and films. Nash, nicknamed "Willy" by his band mates in CSNY, has been described as the glue that keeps their often fragile alliances together. A mark of this is the loyalty and support Nash showed to his best friend, Crosby, during Crosby's well-documented period of drug addiction ending in the mid 1980s. Nash's solo career has often been shelved in favour of reunions on stage and in the studio with either Crosby and Stills or Crosby, Stills and Young. In addition, Nash briefly rejoined the Hollies in 1983 (to mark their 20th anniversary) to record two albums, What Goes Around and Reunion. His own solo work shows a love of melody and ballads. His solo recordings have experimented with jazz and electronic percussion but tend not to stray too far from a pop format with well-defined hook lines.
Nash became very politically active after moving to California to join with David Crosby and Stephen Stills, as reflected in Nash's songs "Military Madness" and "Chicago (We Can Change the World)". His song "Immigration Man", Crosby and Nash's biggest hit as a duo (see below), arose from a tiff he had with a US Customs official while trying to enter the country. Nash became an American citizen on August 14, 1978.
Starting in 1972, Nash teamed with Crosby, the two continuing as a successful recording and performing duo until the more or less permanent reformation with Stills for the CSN album of 1977. The pair reunited for another Crosby & Nash studio album in 2004, and a legitimate release of music from a 1970s Crosby-Nash tour as on a widely-circulated bootleg appeared in 1998.
In 1979, Nash co-founded Musicians United for Safe Energy.
In 1993 Nash again reunited with The Hollies to record a new version of "Peggy Sue Got Married" that featured lead vocal by Buddy Holly (taken from an 'alternate' version of the song given to Nash by Holly's widow Maria Eleana Holly) – this 'Buddy Holly & The Hollies' recording opened the Not Fade Away tribute album to Holly by various artists.
In 2005, Nash collaborated with Norwegian musicians a-ha on the songs "Over the Treetops" (penned by Paul Waaktaar-Savoy) and "Cosy Prisons" (penned by Magne Furuholmen) for the Analogue recording. In 2006, Nash worked with David Gilmour and David Crosby on the title track of David Gilmour's third solo album, On an Island. In March 2006, the album was released and quickly reached #1 on the UK charts. Nash and Crosby subsequently toured the UK with Gilmour, singing backup on "On an Island", "The Blue", "Shine On You Crazy Diamond", and "Find the Cost of Freedom".
Nash is part of the No Nukes group which is against the expansion of nuclear power. In 2007 the group recorded a music video of a new version of the Buffalo Springfield song "For What It's Worth".[5][6]
In addition to his political songs Nash has written many songs on other themes he cares about such as of nature and ecology – beginning with The Hollies' "Signs That Will Never Change" as far back as 1967 – later CSNY's "Clear Blue Skies", plus anti-nuclear waste dumping ("Barrel of Pain"), anti-war ("Soldiers of Peace"), and social issues ("Prison Song").
Nash appeared on the season 7 finale of American Idol singing "Teach Your Children" with Brooke White.
In 2010 Nash was inducted a second time to the Rock and Roll Hall of Fame, this time as a member of The Hollies. He received an OBE 'for services to music and charitable activities', becoming an Officer of the Order of the British Empire in the Diplomatic and Overseas Division of the Queen's Birthday Honours List on Saturday, June 12, 2010. Nash received the title of George Eastman Honorary Scholar at the George Eastman House on January 22, 2011, in Rochester, NY.
Nash contributed a cover of "Raining in My Heart" to the 2011 tribute album Rave On Buddy Holly.
Podcast: Play in new window | Download ()