Today is Stephen Stills turn to go solo with a song from his second solo album. He is the only one to be inducted into the Rock and Roll Hall Of Fame twice on the same day for CSN and Buffalo Springfield!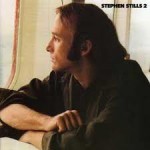 Stills was raised in a military family. Moving around as a child, he developed an interest in blues and folk music. He was also influenced by Latin music after spending his youth in Gainesville and Tampa, Florida, Louisiana, Costa Rica, Panama Canal Zone and El Salvador, where he graduated from high school, and was an avid sailor. He also attended Admiral Farragut Academy in St. Petersburg, Florida and Saint Leo College Preparatory School in Saint Leo, Florida.[2]
Stills dropped out of the Louisiana State University[3][dead link] to pursue a music career in the early 1960s. He played in a series of bands including The Continentals, which featured future Eagles guitarist Don Felder. Stills could also be heard singing solo at Gerde's Folk City, a well-known coffee house in Greenwich Village. Stills eventually ended up in a nine-member vocal harmony group, the house act at the famous Cafe Au Go Go in NYC, called the Au Go Go Singers, which included future Buffalo Springfield bandmate Richie Furay. This group did some touring in the Catskills and in the South, released one album in 1964, then broke up in 1965. Afterwards, Stills, along with four other former members of the Au Go Go Singers formed The Company, a folk-rock group. The Company embarked on a six-week tour of Canada where Stills met a young guitarist named Neil Young. On the VH1 CSNY Legends special, Stills would say that Young was doing what he always wanted to do, "play folk music in a rock band." The Company broke up in New York within four months; Stills did session work and went to various auditions. In 1966 he convinced a reluctant Richie Furay, then living in Massachusetts, to move with him to California.
Stills made an unsuccessful attempt to become one of The Monkees. He was turned down, not due to any lack of ability, but because of a conflict with his existing music publishing contract. So instead, he recommended his friend, multi-instrumentalist Peter Tork.
Podcast: Play in new window | Download (0.3KB)