A big hit today from The Doors Soft Parade album..complete with orchestra..please check it out!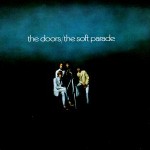 The Soft Parade is the fourth studio album by The Doors, released in 1969.
The album met with some controversy among fans and critics due to its inclusion of brass and string instrument arrangements, as opposed to the more stripped-down sound of their earlier recordings. Fans also complained that The Soft Parade followed the lyrical formulas of previous albums, and thus was not very innovative. In reviewing the 40th anniversary remix (for the August 2007 issue of Downbeat Magazine) correspondent Dan Ouellette thought otherwise, declaring it to be "the apex" of the band's creativity.
Due to Jim Morrison's increasing alcoholism and interest in poetry, guitarist Robby Krieger has a stronger presence on The Soft Parade than on any other Doors album from the Morrison era, contributing around half the material, including sharing the lead vocal on the song Runnin' Blue.
After this album, the Doors returned to simpler styles on Morrison Hotel and L.A. Woman.
For the first time, the songs were credited to individual members (only Morrison and Krieger are actually listed on the album's sleeve) as Morrison was unhappy with the lyric "get your guns" on the album's first track. He was uncomfortable with the possible perception by some that that was in fact what he wanted listeners to do. Although, on later albums the writing credit would return to the earlier format and regardless of whose lyrics were being used, the entire band was credited.
Despite a lukewarm reception, the album became the band's fourth top-ten hit album in a row and the single "Touch Me" was hugely successful. However, despite making #6 in the US, the album did not chart in the UK, perhaps due to the band's lack of a supporting hit single ("Touch Me" also did not chart).
Podcast: Play in new window | Download () | Embed