A great one that I am surprised took so long to feature.  It's from Peter Gabriel.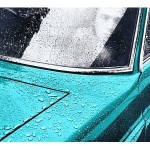 Click the image to play.
Peter Brian Gabriel (born 13 February 1950) is an English singer, musician, and songwriter who rose to fame as the lead vocalist and flautist of the progressive rock group Genesis.[1] After leaving Genesis, Gabriel went on to a successful solo career. His 1986 album, So, is his most commercially successful, and the album's biggest hit, "Sledgehammer", won a record nine MTV Awards at the 1987 MTV Video Music Awards, and the song is the most played music video in the history of the station.[2]
More recently, Gabriel has focused on producing and promoting world music and pioneering digital distribution methods for music. He has also been involved in various humanitarian efforts. Gabriel has won numerous music awards throughout his career, including three Brit Awards—winning Best British Male in 1987, six Grammy Awards, thirteen MTV Video Music Awards, and in 2007 he was honoured as a BMI Icon at the 57th annual BMI London Awards for his "influence on generations of music makers."[3][4][5] Gabriel was also awarded the Polar Music Prize in 2009, and was inducted into the Rock and Roll Hall of Fame as a member of Genesis in 2010.
Podcast: Play in new window | Download ()