We are featuring music from the Eagles solo and collectively this week.  Today's solo is from Joe Walsh from his second solo effort The Smoker You Drink The Player You Get.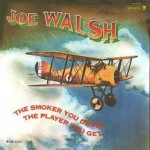 Joseph Fidler Walsh was adopted by his step-father, whose last name was Walsh, at the age of five. In the 1950s it was common practice for Social Security, school registration, and health records for children to take the name of the stepfather. Joe's birth father's last name was Fidler and he took that as his middle name.[3] A native of Wichita, Kansas, Walsh and his family lived in Columbus, Ohio, for a number of years. His mother was a classically trained pianist. When Walsh was twelve years old the family moved to New York City. Later, Walsh moved to Montclair, New Jersey and attended Montclair High School there. While attending Kent State University, he spent time in various bands playing around the Cleveland area, including The Measles. Walsh began a lifelong hobby of amateur ("ham") radio while living in New York City.
1960s and 1970s
In January 1968 he replaced Glen Schwartz as lead guitarist for the James Gang, a five piece American band that rapidly became a power trio after the lead singer and keyboardist quit. Walsh proved to be the band's star attraction, noted for his innovative rhythm playing and creative guitar riffs. In particular he was known for hot-wiring the pickups on his electric guitars to create his trademark "attack" sound.[4] The James Gang had several minor hits and became an early album-oriented rock staple for the next two years, including James Gang Live at Carnegie Hall. In November, 1971 Walsh left the group and formed the group Barnstorm, although their albums credited Walsh as a solo artist. Walsh and Barnstorm released their debut, the eponymous Barnstorm in 1972. The album was a critical success, but had only moderate sales. The follow-up The Smoker You Drink, the Player You Get (1973) was titled under his own name (although officially a Barnstorm album) and was Walsh's commercial breakthrough. The first single "Rocky Mountain Way" received heavy airplay and reached #23 on the US Top 40 chart. In 1974 Barnstorm disbanded and Walsh continued as a solo artist.
In December 1974, Walsh released an official solo album, So What and in March 1976, a live set, You Can't Argue with a Sick Mind. These would be his last solo albums until 1978. On December 20, 1975 he joined the Eagles as Bernie Leadon's replacement. His addition steered the band toward a harder-edged sound and away from their early country-style work, and he was featured prominently on their multi-million-selling album Hotel California, co-writing the Top 20 hit "Life in the Fast Lane" (with Don Henley and Glenn Frey) and "Pretty Maids All in a Row" (co-written with former Barnstorm drummer Joe Vitale).
As the Eagles struggled to record the follow-up to Hotel California, Walsh re-ignited his solo career with the well-received album But Seriously, Folks… (1978) which featured his hit comic depiction of rock stardom, "Life's Been Good". Walsh also contributed "In the City" to The Warriors soundtrack (1979), a song penned and sung by Walsh that was later rerecorded for the Eagles The Long Run album.
1980s-present
Following the breakup of the Eagles in 1980, Walsh continued to release albums throughout the 1980s, but sales were poor. He maintained a low profile until the mid-1990s. In late 1984 Walsh was contacted by Australian musician Paul Christie, former bassist in Mondo Rock, who invited him to come to Australia to perform with The Party Boys, an all-star group with a floating membership of well-known Australian rock musicians, which included acclaimed guitarist Kevin Borich, with whom Walsh became good friends. Walsh accepted and performed with the Party Boys on their late 1984-early 1985 Australian tour and appeared on their live album You Need Professional Help. He remained in Australia for some time after the tour, putting together the short-lived touring group Creatures From America, with Waddy Wachtel (guitar), Rick Rosas (bass) and Australian drummer Richard Harvey (Divinyls, The Party Boys). Walsh returned to Australia in 1989 to tour with another incarnation of The Party Boys. Walsh toured with Ringo Starr in 1989, alternating a handful of his best-known songs with Ringo's tunes, as did all the members of the "All Starr" band. In 1989, Walsh recorded a MTV Unplugged with the R&B musician Dr. John. Also in 1989 Walsh fil
Podcast: Play in new window | Download (0.3KB)