Check out today's first song of Patti Smiths first album. It's a pretty radical version of a tune we are all familiar w-i-t-h.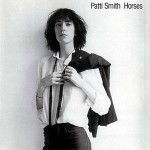 Click the pic to play.
Patricia Lee "Patti" Smith (born December 30, 1946)[1] is an American singer-songwriter, poet and visual artist, who became a highly influential component of the New York City punk rock movement with her 1975 debut album Horses.[2]
Called the "Godmother of Punk",[3] her work was a fusion of rock and poetry. Smith's most widely known song is "Because the Night", which was co-written with Bruce Springsteen and reached number 13 on the Billboard Hot 100 chart in 1978.[2] In 2005, Patti Smith was named a Commander of the Ordre des Arts et des Lettres by the French Minister of Culture,[4] and in 2007, she was inducted into the Rock and Roll Hall of Fame.[5] On November 17, 2010, she won the National Book Award for her memoir Just Kids.[6] She is also a recipient of the 2011 Polar Music Prize.
Podcast: Play in new window | Download (0.3KB)