We had a lot of fun yesterday getting a month's worth of downloads with the Billy Corgan interview.  It is always available on our site if you didn't catch it or want to catch it again.  Today we pay tribute to a fallen Monkee.  Davy Jones. Click the pic to play.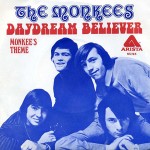 Davy Jones was born at 20 Leamington Street, Openshaw, Manchester, England, on 30 December 1945. At age 14, he began his acting career, appearing on the British television soap opera Coronation Street, which was produced at Granada Studios by Granada Television in Manchester. In 1961 Jones played Ena Sharples' grandson, Colin Lomax,[1] the second year Coronation Street was broadcast. He also appeared in the BBC police series Z-Cars. After the death of his mother from emphysema when he was 14 years old, Jones rejected acting in favour of a career as a jockey, training with Basil Foster.[1]
 Early acting and recording career
Foster was approached by a friend who worked in a theatre in the West End of London during casting for the musical Oliver!. Foster replied, "I've got the kid." Jones was cast and appeared to great acclaim as the Artful Dodger.[2] He played the role in London and then on Broadway and was nominated for a Tony Award.[3] On 9 February 1964, he appeared on The Ed Sullivan Show with Georgia Brown who was playing Nancy in the Broadway production of Oliver!. This was the same episode of the show in which The Beatles made their first appearance. Jones said of that night, "I watched the Beatles from the side of the stage, I saw the girls going crazy, and I said to myself, this is it, I want a piece of that."[4]
Following his Ed Sullivan appearance, Jones signed a contract with Ward Sylvester of Screen Gems (then the television division of Columbia Pictures). A pair of American television appearances followed, as Jones received screen time in episodes of Ben Casey and The Farmer's Daughter.[5]
Jones debuted on the Hot 100 in the week of August 14, 1965, with the single "What Are We Going To Do?" The 19 year old singer was signed to Colpix Records, a label owned by Columbia.[6] His debut album David Jones, on the same label, followed soon after (CP493).[7] A second album, of the same name, appeared in 1967 on the Pye Records label (NPL 18178).[8]
Podcast: Play in new window | Download ()