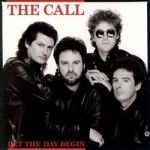 Today we will Let The Day Begin with a song that Al Gore used in his presidential campaign. It's by The Call a group from California. Let's give it a listen shall we?
The Call formed in Santa Cruz in 1980 by vocalist/guitarist Michael Been, Scott Musick, bassist Greg Freeman, and guitarist Tom Ferrier. Been and Musick were originally from Oklahoma. Been was previously a member of Chicago band Aorta, and then, between 1969 and 1971, of Lovecraft, the successor band to the psychedelic rock group H.P. Lovecraft.[1]
Beginning with their self-titled debut in 1982, The Call went on to produce a total of 10 albums by 2000. The eponymous premiere album was recorded in England, and Been later recalled that the band was in an exploratory phase at this point. Been noted in a 1988 interview, "The Call was a compassionate album, but it probably came out as anger." Peter Gabriel liked the band so much that he asked them to open for him during his 1982 "Shock the Monkey" tour.
The next album, Modern Romans, was notable for its political content. Been later stated, "There was a great deal happening politically – Grenada, Lebanon, or the government saying the Russians are evil and the Russian government probably saying the same about us. That kind of thinking inspired me to write the last lines of 'Walls Came Down'."
This was followed by Scene Beyond Dreams. Been referred to it as The Call's "metaphysical" album. With a strong poetic sense to the lyrics and a change in instrumentation, the change in sound is notable. Garth Hudson of The Band played keyboards on these first three records.
Podcast: Play in new window | Download (0.3KB)