We are remembering Richie Havens, who passed away the other day at the age of 72.  A beautiful version of a Bob Dylan tune to start and maybe finish your day.  Click the pic to hear.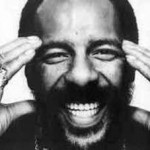 At age 20, Havens left Brooklyn, seeking artistic stimulation in Greenwich Village. "I saw the Village as a place to escape to, in order to express yourself", he recalled. "I had first gone there during the Beatnik days of the 1950s to perform poetry, then I drew portraits for two years and stayed up all night listening to folk music in the clubs. It took a while before I thought of picking up a guitar."
Havens' solo performances quickly spread beyond the Village folk circles.[2] After cutting two records for Douglas Records, he signed on with Bob Dylan's manager, Albert Grossman, and landed a record deal with the Verve Forecast label. Verve released Mixed Bag in 1967, which featured tracks such as "Handsome Johnny" (co-written by Havens and future Oscar-winning actor Louis Gossett Jr.), "Follow", and a cover of Bob Dylan's "Just Like a Woman".
By 1969, Havens had released five more albums. Something Else Again (1968) became his first album to hit the Billboard charts and also pulled Mixed Bag back onto the charts. Two of those albums were unauthorized "exploitation albums" released by Douglas Records (or Douglas International[3]): Electric Havens (released June 01, 1968[3][4][5]) and Richie Havens Record (1969[4]):
This [Electric Havens] was one of two albums (the other being The Richie Havens Record) comprised of overdubbed solo demos, probably from sometime between 1963-1965, that Havens had done prior to recording for Verve and making his official recording debut. In the late '60s, as Havens rose to stardom, producer Alan Douglas took the original solo demos and overdubbed them with electric instruments. The albums were pulled from circulation and are hard to find today. The eight-song set is oriented toward the kind of traditional material that he was likely doing in clubs around that time, such as "Oxford Town", "C. C. Rider", and "900 Miles From Home" as well as an early Dylan cover, "Boots & Spanish Leather".[6]
Woodstock and increased visibility
Havens as a live performer earned widespread notice. His Woodstock appearance in 1969 catapulted him into stardom and proved to be a major turning point in his career.[2] As the festival's first performer, he held the crowd for nearly three hours. In part, Havens was told to continue playing, because many artists scheduled to perform after him were delayed in reaching the festival location with highways at a virtual standstill. He was called back for several encores. Having run out of tunes, he improvised a song based on the old spiritual "Motherless Child" that became "Freedom". The subsequent Woodstock movie release helped Havens reach a worldwide audience. He also appeared at the Isle of Wight Festival in late August 1969.[7][8]
Podcast: Play in new window | Download () | Embed