Today Carole King receives the very exclusive Gershwin Prize. This is a song from her mega album Tapestry. Great tune to start the day with.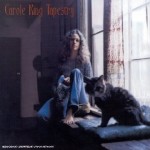 One fine day in 1957, a 15-year-old named Carol Klein got off the express train from Brooklyn to Manhattan with schoolbooks under one arm and sheet music under the other. She wore bobby socks, white sneakers and a black skirt with a pink poodle embroidered on it.
Starting with the "A"s in the phone book, she began visiting music industry executives, hoping that her aggressive piano playing and perfect pitch would land a contract. At Atlantic Records, impresario Ahmet Ertegun called her "soulful" but sent her on her way. ABC-Paramount invited her to record four of her songs, including a thankfully forgotten number titled "Baby Sittin' " ("You know the baby I mean — he's 17") .
Klein, eventually known as Carole King, wrote in her recent memoir, "I shudder to recall . . ."
The bright side was that her work could only get better. And by any measure, it has.
After a career spanning five decades, more than 20 solo albums and numerous high-profile honors, the 71-year-old King is the first woman to receive the Library of Congress's Gershwin Prize for Popular Song. The award, established in 2007 to celebrate the music-writing team of George and Ira Gershwin, will be presented at the White House on Wednesday, after a Tuesday concert in her honor at the Library of Congress. Previous winners include Paul Simon, Stevie Wonder, Paul McCartney and the team of Burt Bacharach and Hal David.
In a rare and brief phone interview last week as she wandered around Manhattan's Upper West Side, King was friendly but not rock-star boastful. She stopped in front of Carnegie Hall, where she gave two sold-out concerts in 1971. She did not linger on that point but instead uttered the old joke of how to get there: "Practice, practice, practice."
Podcast: Play in new window | Download (0.3KB)