And here is a song from our "5th" Beatle…(We've Forgotten) Billy Preston! Have a great holiday weekend and don't forget we have a great new Radio Hour this Sunday!! Click the pic to play.
William Everett "Billy" Preston (September 2, 1946 – June 6, 2006) was a musician whose work included R&B, rock, soul, funk and gospel. Preston becam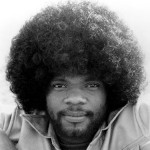 e famous, first as a session musician with such artists as Sam Cooke, Ray Charles and The Beatles, and was later successful as a solo artist with such hit pop singles as "Space Race", "Will It Go Round in Circles" and "Nothing from Nothing", and a string of albums.
Alongside Tony Sheridan, Billy Preston was the only other musician to be credited on a Beatles recording after he was credited on the group's number-one hit, "Get Back", with the record title listed as The Beatles with Billy Preston. Steven Stills asked Preston if he could use Preston's phase "if you can't be with the one you love, love the one you're with" in a song and created the legendary eponymous hit.
William Everett Preston was born on September 2, 1946 in Houston, Texas. At the age of three, the family moved to Los Angeles where Preston began playing piano while sitting on his mother Robbie's lap. Noted as a child prodigy, by the age of ten, Preston was playing organ onstage backing several gospel singers such as Mahalia Jackson, James Cleveland and Andrae Crouch. At twelve, he appeared in the Nat King Cole-starring W.C. Handy biopic, St. Louis Blues, playing Handy at a younger age; a year prior, he appeared on Cole's national TV show singing the Fats Domino hit, "Blueberry Hill".
In 1962, he joined Little Richard's band as an organist and it was while performing in Hamburg that Preston met The Beatles. In 1963, he performed organ on Sam Cooke's Night Beat album and released his first gospel album, 16 Years Soul, that same year. In 1965, he released his secular debut album, The Most Exciting Organ Ever, and that same year played organ and performed on the rock and roll show, Shindig!. In 1967, he joined Ray Charles' band. Following his exposure with Charles, several musicians began asking Preston to come to sessions, most notably The Beatles, who asked him to contribute to two of their albums, Abbey Road and Let It Be.
Podcast: Play in new window | Download (0.3KB)