A great song from Stevie Wonder from the height of the disco era but was not a disco song during disco week here on the podcast.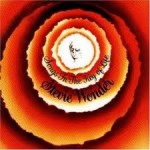 Songs in the Key of Life is the 18th album by American recording artist Stevie Wonder, released September 28, 1976, on Motown Records. It was the culmination of his "classic period" albums.[1] An ambitious double LP with a 4-song bonus EP,[2] Songs in the Key of Life became among the best-selling and most critically acclaimed albums of his career. In 2003, the album was ranked number 56 on Rolling Stone magazine's list of the 500 greatest albums of all time.
By 1976, Stevie Wonder had become one of the most popular figures in R&B and pop music, not only in the United States but worldwide. Within a short space of time, the albums Talking Book, Innervisions and Fulfillingness' First Finale were all back-to-back top five successes, with the latter two winning Grammy Award for Album of the Year, in 1974 and 1975 respectively. By the end of 1975, Stevie Wonder became serious about quitting the music industry and to emigrate to Ghana working with handicapped children. Wonder had expressed his anger with the way that the United States Government was running the country. [3][4] A farewell concert was being considered as the best way to bring down the curtain on his career. Wonder changed his decision, when he signed a new contract with Motown on August 5, 1975, thinking he was better off making the most of his career. At the time, rivals such as Arista and Epic were also interested in him. The contract was laid out as a seven-year, seven LP, $37 million deal and gave him full artistic control, making this the largest deal ever made with a recording star up to that point.[3] Almost at the beginning Stevie took a year off from the music market, with a project for a double album to be released in 1976.[5] There was huge anticipation for the new album which was initially scheduled for release around October 1975. It was delayed on short notice when Wonder felt that further remixing was essential. According to Stevie Wonder, the marketing campaign at Motown decided to take advantage of the delay by producing "We're almost finished" t-shirts.[6]
Work on the new album continued into early 1976. A name was finally chosen for the album: Songs in the Key of Life. The title would represent the formula of a complex "key of life" and the proposals for indefinite success.[7] The album was finally released on September 28, 1976 after a two year wait as a double LP album with a four track seven-inch EP entitled A Something's Extra ("Saturn", "Ebony Eyes", "All Day Sucker" and "Easy Goin' Evening (My Mama's Call)") and a 24-page lyric and credit booklet.[