Come join is for the first song of our 4th year of the podcast. It's one I've wanted to feature for a while now. It's from Mellencamp's Lonesome Jubilee album.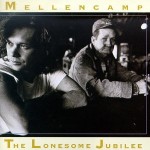 John Mellencamp, also known as John Cougar Mellencamp (born October 7, 1951) is an American rock singer-songwriter, musician, painter and occasional actor known for his catchy, populist brand of heartland rock which emphasizes traditional instrumentation. He has sold over 40 million albums worldwide and has amassed 22 Top 40 hits in the United States. In addition, he holds the record for the most tracks by a solo artist to hit number-one on the Hot Mainstream Rock Tracks chart, with seven, and has been nominated for 13 Grammy Awards, winning one. His latest album, No Better Than This, was released on August 17, 2010 to widespread critical acclaim.
Mellencamp is also one of the founding members of Farm Aid, an organization that began in 1985 with a concert in Champaign, Illinois to raise awareness about the loss of family farms and to raise funds to keep farm families on their land. The Farm Aid concerts have remained an annual event over the past 27 years, and as of 2013 the organization has raised over $40 million to promote a strong and resilient family farm system of agriculture.
Mellencamp was inducted into the Rock and Roll Hall of Fame on March 10, 2008 by Billy Joel.[1] His biggest musical influences are Bob Dylan, Woody Guthrie, James Brown and The Rolling Stones.[2] Said longtime Rolling Stone contributor Anthony DeCurtis: "Mellencamp has created an important body of work that has earned him both critical regard and an enormous audience. His songs document the joys and struggles of ordinary people seeking to make their way, and he has consistently brought the fresh air of common experience to the typically glamour-addled world of popular music."[
Podcast: Play in new window | Download (0.3KB)