You wouldn't think I would say this but I believe this song by The Cowsills is one of the best produced songs in pop history. One of the few  that doesn't have the title of the song in the lyrics of the song. There have been a few inspirations to feature this today..so here we go. Click the pic to play.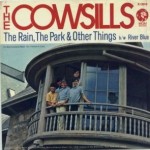 The Cowsills' musical interest started while their father Bud Cowsill was stationed in Canton, Ohio, in the late 1950s as a US Navy recruiter. Billy and Bob taught themselves how to play the guitar. The boys developed their musical talent and harmonized vocals, and they performed at school church dances in Stark County, Ohio. The boys' first television appearance was on the Gene Carroll Show on WEWS in Cleveland.
After Bud retired from Navy he and his wife managed their children's career.
In late 1965, the Cowsills were hired as a regular act on Bannisters Wharf in Newport, where they sang Beatles songs hour after hour. A handful of singles were released on JODA Records and Philips Records in 1965 and 1966, to only modest success.[2] The band was signed by MGM records in 1967, and Barbara, who would become known to their fans affectionately as "Mini-Mom" due to her diminutive stature, joined the group just in time to record the band's first album, including the hit single "The Rain, The Park & Other Things" . It sold over one million copies, and was awarded a gold disc.[3] Bill sang lead vocal on this hit. Shortly thereafter the band was expanded yet again, to include siblings Susan and Paul.
With the success of "The Rain…", the band quickly became a popular act in the U.S., and achieved significant airplay in England and other parts of Europe. "The Rain, The Park and Other Things" reached No. 2 on the Billboard Hot 100.
Bob Cowsill is quoted as follows on the band's early days:
"Although Bill and I performed at a very young age, and Bill, I, Barry and John did a lot of frat parties at Brown University and clubs in Newport … the most memorable performance of what I would view as the precursor of what The Cowsills would be was at Kings Park in Newport (right at the foot of Halidon Hall) at some carnival. The family angle just evolved … first Bill and me, then Bill me and Barry, then Bill, me, Barry and John, then Bill, me, Barry, John and Mom, then Bill, me, Barry, John, Mom and Paul, then later, me, Paul, John, Barry, Mom and Susan, then back to Bill, me, Barry and John (very briefly in the end) and then to me, Paul, John and Susan. Our first real break came when we were playing the MK Hotel in Newport (in the basement there) and a guy from the "Today Show" saw us and asked if we wanted to be on the "Today" show. We weren't famous or anything but we were young and we were related and we were quite good. So we went on "The Today Show" (I doubt a tape exists of that but if it did it would be priceless to see) and someone from Mercury Records saw us, which ultimately led to our signing with that label and putting out "Most Of All" (a great "school's out" song that should have been our first hit in my opinion), which led to Artie Kornfeld and Steve Duboff. Mercury dropped us, but Artie and Steve had written "The Rain, The Park and Other Things" and we went in and recorded that song at A&R studios in New York and took the whole package to MGM, who decided wouldn't it just be terrific if their mother performed with them and, voila, the rest, as they say, is history."[4]
In 1968, the band scored another million-selling hit with the song "Indian Lake" which reached No. 10 on the charts. In 1969, the band had another number two hit and million seller with their version of the title song from the musical Hair.[3]
From 1968 through 1972, the band played an average of 200 performance dates per year, and were among the most popular acts on the American concert circuit.[
Podcast: Play in new window | Download ()