If the Rolling Stones can bring on guests why can"t I? Today we have a longtime Chicago newsman, an Illini Media Hall of Famer, a blogger, now a TV host and a friend I have known for more years than I care to think of..my friend Charlie Meyerson.
He has a great song for us today by The New Radicals from their only album. Let"s give him a listen on Vinyl Schminyl Radio.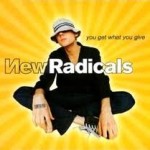 New Radicals had a "revolving door policy" and no permanent members other than Gregg Alexander, who produced, wrote, sang and played various instruments for the band. The only other person considered a relatively constant member was former child actress Danielle Brisebois (All in the Family, Archie Bunker"s Place).[6] She acted as background singer and percussionist on the album, at live shows and in the band"s music videos. She also co-wrote their second single "Someday We"ll Know" with Alexander and Debra Holland. Brisebois had previously worked with Alexander on his 1992 album Intoxifornication and on her 1994 solo debut Arrive All Over You.
Most of the musicians who worked on Maybe You"ve Been Brainwashed Too were hired session musicians, including Paul Gordon, drummers Matt Laug and Josh Freese, Paul McCartney"s guitarist Rusty Anderson, guitarist Michael James (who also mixed)[1], bassists Paul Bushnell, Dan Rothchild [2] and John Pierce, percussionist Lenny Castro, pianist Greg Phillinganes, and producer Rick Nowels, who played piano on two tracks on the album (and who had previously produced Alexander"s debut album Michigan Rain). Other musicians who were at some point part of the live line-up include drummer Stuart Johnson, guitarist Bradley Fernquist, keyboardist Jim McGorman and bassist Sasha Krivtsov. The latter two were later also part of the house band in Rock Star: INXS.[7]
Podcast: Play in new window | Download (0.3KB)