We are back today with a cover of a "One Hit Wonder" originally released by the Castaways in 1965. Debbie Harry did it in the movie Married To The Mob. Give it a listen.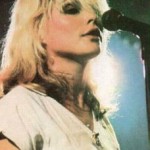 Harry was born in Miami, Florida, and adopted by Catherine Harry and Richard Smith, gift shop proprietors in Hawthorne, New Jersey.[2] She attended Hawthorne High School, where she graduated in 1963.[3] She graduated from Centenary College in Hackettstown, New Jersey, with an Associate of Arts degree in 1965.[4] Before starting her singing career she moved to New York City in the late 1960s and worked as a secretary at BBC Radio"s office there for one year.[5] Later, she was a waitress at Max"s Kansas City,[6] a go-go dancer in Union City, New Jersey, discothèque,[7] and a .[8]
In the late 1960s, Deborah Harry began her musical career as a backing singer for the folk rock group, The Wind in the Willows, which released one self-titled album in 1968 on Capitol Records.[9] The group also recorded a second album which was never released and the studio tapes remain lost to this day.
In 1974, Harry then joined The Stilettos with Elda Gentile and Amanda Jones. The Stilettos included her eventual boyfriend and Blondie guitarist, Chris Stein.[10]
After leaving The Stilettos, Harry and Stein formed Angel and the Snake with Tish and Snooky Bellomo. Shortly thereafter, Harry and Stein formed Blondie, naming it after the term of address men often called her when she bleached her hair blonde.[11] Blondie quickly became regulars at Max"s Kansas City and CBGB in New York City.[6] After a debut album in 1976, commercial success followed in the late 1970s to the early 1980s, first in Australia and Europe, then in the United States.
In 1989 and 2010 interviews, Harry claimed that she had been lured into a car driven by serial killer, Ted Bundy, while in New York during the early 1970s but said that she luckily escaped. While Harry has claimed to identify the driver as Bundy from TV news reports, the fact-checking website snopes.com says the driver was probably not Bundy because there is no known record that Bundy was in New York at that time. Snopes noted that Ann Rule, an author of a book on Bundy, says false claims of Bundy abductions are not uncommon.[12][13]
While leading Blondie, Harry and Stein became life as well as musical partners, though they never married. Harry has no children.[14] In the mid-1980s, she took a few years off to care for Stein while he suffered with pemphigus, a rare autoimmune disease that affects the skin and mucous membranes. Stein and Harry broke up in the 1980s, but continued to work together. In 1999, Harry was deemed the 12th greatest woman of rock and roll by VH1″s 100 Greatest Women of Rock & Roll[15] and in 2002, she was called the 18th sexiest artist of all time by VH1″s 100 Sexiest Artists.[16]
Podcast: Play in new window | Download (0.3KB)