What follows the Olympics…well Genesis of course.  It's today's Classic Deep Cut.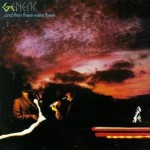 Genesis are an English rock band that formed in 1967. The band currently consists of its three longest-tenured members – Tony Banks (keyboards) and Mike Rutherford (bass, guitar), who were founding members; and Phil Collins (vocals, drums), who first joined in 1970. Past members Peter Gabriel (vocals, flute), Steve Hackett (guitar) and Anthony Phillips (guitar), also played major roles in the band in its early years. Genesis are among the top 30 highest-selling recording artists of all time, with approximately 150 million albums sold worldwide.[1]
In the late 1960s, with the release of their first album, Genesis's music was initially regarded by the band and the fans as a pop experiment, referring to then-popular melodic pop.[2] Then, over the course of a year, (beginning with their second album in mid-1970) they quickly evolved into a progressive rock band with the incorporation of complex song structures and elaborate instrumentation. Their concerts became theatrical experiences with innovative stage design, pyrotechnics, extravagant costumes and on-stage stories. This second phase was characterised by lengthy performances such as the 23-minute "Supper's Ready" and the 1974 concept album, The Lamb Lies Down on Broadway. In the late '70s and early '80s the band's musical direction changed once again, becoming more pop oriented and commercially accessible. This resulted in their first top 40 single in the US with "Follow You Follow Me", their first number one album in the United Kingdom, Duke, and their only number one single in the United States, "Invisible Touch".
Genesis has undergone several personnel changes throughout its history. Stage fright forced founding member Anthony Phillips to leave the band in 1970. In 1975, Collins, then the band's drummer, replaced Peter Gabriel as lead singer after a lengthy search for a replacement. To facilitate Collins's move to lead vocals during concerts, Bill Bruford and Chester Thompson played drums for the band as they toured, with Collins joining in briefly during lengthy instrumental passages. In 1977, guitarist Steve Hackett left the band. After Phil Collins left the band in 1996, Genesis recruited Ray Wilson (formerly of Stiltskin). Wilson appeared on the 1997 album Calling All Stations, after which the band announced an indefinite hiatus. In 2007, Banks, Collins and Rutherford reunited for a 20-city tour of Europe and North America, which included a free concert at Rome's Circo Massimo in front of 500,000 fans. Genesis were among five bands inducted into the Rock and Roll Hall of Fame in 2010. The future of the band remains uncertain with Collins's retirement from the music business and the other members' solo work.
Podcast: Play in new window | Download (0.3KB)