I hear some howling in the distance today..sounds like Los Lobos with their breakout song from 1984..give it a listen while I travel up to Timber wolf country today.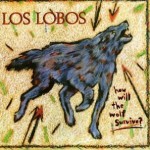 Vocalist/guitarist David Hidalgo and drummer Louie Pérez met at Dixon High School in Dixon, California, and bonded over their mutual affinity for obscure musical acts such as Fairport Convention, Randy Newman and Ry Cooder.[1][2] Pérez recalls, "We're looking at each other, 'You like this stuff? I thought I was the only weird one.' So I went over to his house one day for about a year, which we spent listening to records, playing guitars, and starting to write songs."[1] The two borrowed reel-to-reel recorders from a friend and created multi-track recordings of music spanning from parody songs to free-form jazz.[1] They later enlisted fellow students Cesar Rosas and Conrad Lozano to complete the group's lineup in 1973.[2]
The band members were unsatisfied with playing only American Top 40 songs, and began experimenting with the traditional Mexican music they listened to as children.[2] This style of music received a positive reaction from audiences, leading the band to switch genres, performing at hundreds of weddings and dances between 1974 and 1980.[2] However, Los Lobos took notice of the popular groups on the Hollywood music scene, and added influences of rock to its sound.[2]
Originally, they called themselve Los Lobos del Este (de Los Angeles) ["The Wolves of the East (of Los Angeles)"], which was a play on the name of a norteno band called Los Lobos del Norte and the fact that they (Los Lobos del Este) were from east L.A. The name was quickly shortened to Los Lobos.[3]
Podcast: Play in new window | Download (0.3KB)