Today's cut is from Loggins and Messina's last studio album together in 1976.  One of my favorites…check it out!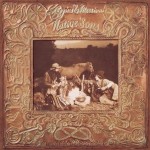 Jim Messina, formerly of Poco and Buffalo Springfield, was working as an independent record producer for Columbia Records in 1970 when he met Kenny Loggins, a little-known singer/songwriter who was signed to ABC-Dunhill.
The two recorded a number of Loggins' compositions in Messina's home living room. When Columbia signed Loggins to a six-album contract (with the assistance of Messina), recording began in earnest for Loggins' debut album, with Messina as producer. Messina originally intended to lend his name to the Loggins project only to help introduce the unknown Loggins to Messina's well-established Buffalo Springfield and Poco audiences. But by the time the album was completed, Messina had contributed so much to the album – in terms of songwriting, arrangement, instrumentation, and vocals – that an "accidental" duo was born.
Their debut album was released November 1971 as Sittin' In. Although the album went unnoticed by radio upon release, it eventually found success by autumn 1972, particularly on college campuses where the pair toured heavily. Loggins' and Messina's harmonies meshed so well that what was begun as a one-off album became an entity unto itself. Audiences regarded the pair as a genuine duo rather than as a solo act with a well-known producer. Instead of just continuing to produce Loggins as a sole performer, they decided to record as a duo – Loggins & Messina.
"When our first album, 'Sittin' In, ' came out, we started receiving a lot of excitement about the music and good sales," Messina recalled in 2005. "We had a choice. It was either I now go on and continue to produce him and we do the solo career or we stay together and let this work. For me, I did not desire to go back out on the road. I had had enough of that, and I wanted to produce records. But Clive Davis (then president of the record company) intervened and said, 'You know, I think you'd be making a mistake if you guys didn't take this opportunity. Things like this only happen once in a lifetime. It may merit you sleeping on it overnight and making a decision that will be in your best interest.' He was absolutely correct. Kenny made the decision as well. It delayed his solo career, but it gave him an opportunity, I think, to have one." [1]
Over the next four years they produced five more original-material albums, plus one album of covers of other artists' material, and two live albums. They sold 16 million records and were the most successful duo of the early 1970s, surpassed later in the decade only by Hall & Oates.[1] Their work was covered by other artists such as Lynn Anderson who recorded "Listen to a Country Song" released in 1972 and reached #3 on the charts. Perhaps most notably Anne Murray, who reached the U.S. top ten with "Danny's Song" in early 1973, and again with "A Love Song" the following year. A greatest-hits album, The Best of Friends, would be released a year after the duo had separated. The later studio albums often found both Loggins and Messina more as two solo artists sharing the same record rather than as a genuine partnership. As both Loggins and Messina noted in 2005, their collaboration eventually became more a competition – a frequent, almost-inevitable dynamic of show business duos.
Never really a team of true equals due to the "teacher/apprentice" nature of their music experience levels, the pair had by early 1976 quietly but amicably parted to pursue solo careers, following the release of Native Sons. Messina found solo success elusive but Loggins went on to become one of the biggest hitmakers of the 1980s.
They reunited in 2005 to choose tracks for an expanded compilation album of singles and album cuts The Best: Sittin' In Again, which proved successful enough for them to embark on tour together. Their successful "Sittin' In Again" tour was launched in mid-2005 and played out the remainder of the year. They also released an album that year of the tour. "Every couple of years we'd talk about it, but I was having too much fun as a solo artist," Loggins said that summer. "It was very rewarding for me, and I wasn't ready to share the reins. I still had a lot of stuff to do on my own, to prove myself and to express myself, in a way that wouldn't have fit in with Loggins & Messina." [1]
The two were pleased enough to consider future Loggins and Messina projects, and a summer/fall 2009 tour was announced on May 28, 2009. "Like most relationships, we were a moment in time," Loggins said. "It's just really fun to be able to go back and celebrate that and just sort of really honor each other as grown men, in a way we never really did back then. We were young and competitive and didn't realize that it wasn't necessarily all about getting your way, but you learn that if you grow up." [1]
Their backing band changed from album-to-album but the core members are listed below. Many albums featured backing members who were well known in their own right, John Townsend and Ed Sanford, later of the Sanford & Townsend Band ("Smoke from a Distant Fire") contributed vocals and songwriting to the Native Sons, their final studio album.
Podcast: Play in new window | Download ()