We have a great live version of one of the Doobie Brother's biggest hits. Michael McDonald sings it and of course you will listen! Enjoy!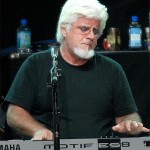 Born in St. Louis, Missouri, McDonald played in several local bands while attending McCluer High School in his hometown of Ferguson, Missouri. He was discovered while playing with a group called Blue and consequently moved to Los Angeles in 1970.
Steely Dan
Michael McDonald became one of the many in-studio adjunct members of the group Steely Dan, providing back-up vocals on tracks for 1975's Katy Lied. He would return on subsequent Steely Dan recordings including 1976's The Royal Scam and 1977's Aja. He also played keyboards on some Steely Dan tracks. McDonald continued to do background vocals for Steely Dan through their 1980 release, Gaucho. He was part of Steely Dan's last touring band in the 1970s, playing keyboards and singing backup.
Doobie Brothers
McDonald was recruited by the band The Doobie Brothers in April 1975 when lead singer Tom Johnston became ill during a national tour. His time with the band proved so successful that they decided to retain him as a full time member.
As a member of the Doobie Brothers he recorded some of his best-known songs such as "Real Love", "Takin' It to the Streets", "Little Darling", "It Keeps You Runnin'", "Minute by Minute" and "What a Fool Believes" (which became a number one single in the U.S. and earned him a 1980 Grammy Award for Song of the Year along with co-writer Kenny Loggins). At the same time he appeared as a session singer and piano player for artists such as Christopher Cross, Stephen Bishop, Jack Jones, Bonnie Raitt, the rock band Toto and Kenny Loggins.
Solo career
After the Doobies' first farewell tour, McDonald compiled some of his earlier songs in the 1982 release That Was Then: The Early Years which has never been issued on CD. His first solo album, If That's What It Takes, also released in 1982, featured the hits "I Keep Forgettin' (Every Time You're Near)," a duet with his sisters Kathy and Maureen, and "I Gotta Try," a song co-written with Kenny Loggins, who recorded it as well.
McDonald co-wrote Van Halen's Top 20 hit "I'll Wait", from their landmark 1984 album. McDonald co-wrote "You Belong to Me" with Carly Simon.
"Yah Mo B There", a duet with James Ingram, won the 1985 Grammy for Best R&B Performance by a Duo or Group with Vocals.[2] He followed that up with "On My Own", a duet with Patti LaBelle, which reached #1 on the U.S. charts in 1986. Also in 1987 McDonald did a featured collaboration with American gospel group The Winans from their Decisions album: "Love has no color". That same year he performed the single "Sweet Freedom" that appeared on that summer's hit movie Running Scared soundtrack.
McDonald's 1990 album Take It to Heart featured a minor hit with the title song, co-written with Diane Warren. The following year he joined the New York Rock and Soul Revue, put together by Steely Dan's Donald Fagen. 1991's "Ever Changing Times" with Aretha Franklin, a duet on Arista Records, had moderate success and radio play (peaking at #19 on US R&B charts). In 2003, he earned two Grammy nominations for his album Motown, a tribute to the Motown sound.
In 2008 McDonald released his SoulSpeak album which (in addition to including three new songs penned by McDonald) featured his interpretations of 11 carefully selected soul-inspired songs. Ranging from universal evergreens like Dionne Warwick's "Walk On By" and Stevie Wonder's "Living For The City" to lesser-known numbers like Van Morrison's atmospheric "Into The Mystic" and the late 60s Chicago soul of Tyrone Davis' "Baby Can I Change My Mind".[3]
McDonald has reunited as a guest performer with the Doobies several times since their initial dissolution in 1982 and joined Steely Dan on their 2006 summer tour, both as the opening act and as part of the band.[4]
In 1999, McDonald recorded the song "Eyes of a Child" for the South Park: Bigger, Longer & Uncut (soundtrack). It was also used at the ending credits for the movie.
Podcast: Play in new window | Download (0.3KB)