We just celebrated Martin Luther King's I Have A Dream speech. Today we will celebrate Paul Revere And The Raiders version of their speech.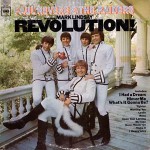 Initially based in Boise, Idaho, the Raiders began as an instrumental rock outfit led by organist Paul Revere (born Paul Revere Dick in Harvard, Nebraska, on January 7, 1938).[1] In his early 20s, Revere owned several restaurants in Caldwell, Idaho[2] and first met singer Mark Lindsay (born March 9, 1942, Eugene, Oregon)[3] while picking up hamburger buns from the bakery where Lindsay worked [2] (this circumstance was later referred to in the tongue-in-cheek song "Legend of Paul Revere"). Lindsay joined Revere's band in 1958. Originally called The Downbeats, they changed their name to Paul Revere & The Raiders in 1960 on the eve of their first record release for Gardena Records. The band scored their first Pacific Northwest hit in 1961, with the instrumental "Like, Long Hair". The record had enough national appeal that it peaked at No. 38 on the Billboard charts on April 17, 1961.[4][5] When Revere was drafted for military service, he became a conscientious objector[2] and worked as a cook at a mental institution for a year and a half of deferred service, while Lindsay pumped gas in Wilsonville, Oregon.[2] Lindsay, on the strength of their Top 40 single, toured the U.S. in summer 1961 with a band that featured Leon Russell filling in for Revere on piano.[2]
By summer 1962, Revere and Lindsay were working together again in Oregon with a version of The Raiders that featured drummer Mike "Smitty" Smith (not to be confused with The Dave Clark Five's late lead vocalist and keyboardist Mike Smith), who would spend two long periods with the band.[2] Around this time, KISN DJ Roger Hart, who was producing teen dances, was looking for a band to hire. Hart had a casual conversation with a bank teller who told him about a band called "Paul Revere-something". Hart obtained Revere's phone number and they met for lunch. Hart hired the band for one of his teen dances. Soon afterwards, Hart became the group's personal manager. It was Hart who suggested they record "Louie Louie", for which Hart paid them about $50, producing the song and placing it on his Sande label, ultimately attracting the attention of Columbia Records.[6] According to Lindsay, the Northwest Raiders were a "bunch of white-bread kids doing their best to sound black. We got signed to Columbia (Records) on the strength of sounding like this".[6] Whether the Raiders or The Kingsmen recorded "Louie Louie" first is a matter of some controversy. However, both groups recorded it in the same studio in Portland, Oregon on Northwest 10th Avenue. By then, Raiders included Revere, Lindsay, Smith, guitarist Drake Levin and bassist Mike "Doc" Holliday, who was replaced in early 1965 by Phil Volk.[7]
Podcast: Play in new window | Download (0.3KB)