This song is for YOU today..Pretty cool song that was originally recorded and never released for Ronnie Spector. Take a listen to the back story as well.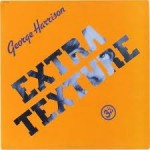 Extra Texture (Read All About It) is the fifth studio album by English musician George Harrison, released in 1975 following his troubled North American tour at the end of the previous year and the poorly received Dark Horse album. Extra Texture was Harrison's final release under his contract with Apple Records and EMI, and the last studio album issued by Apple. Featuring elements of soul music and demonstrating the influence of mellow-voiced Smokey Robinson, the album was something of a departure from the more traditional rock style of his previous post-Beatles solo work.
Despite its downbeat mood and the negative reviews it received from music critics, Extra Texture was certified gold by the Recording Industry Association of America within two months of release. The album produced a hit single in the song "You", which was originally co-produced with Phil Spector and recorded in 1971. Uniquely among George Harrison's solo albums, Extra Texture was mostly recorded in America rather than in England; Gary Wright, David Foster, Tom Scott, Jesse Ed Davis, Leon Russell, Billy Preston and Jim Keltner were among the many contributing musicians. Extra Texture was released on CD in 1992, but, unusually for an Apple album, it has not been remastered since then.
Podcast: Play in new window | Download () | Embed